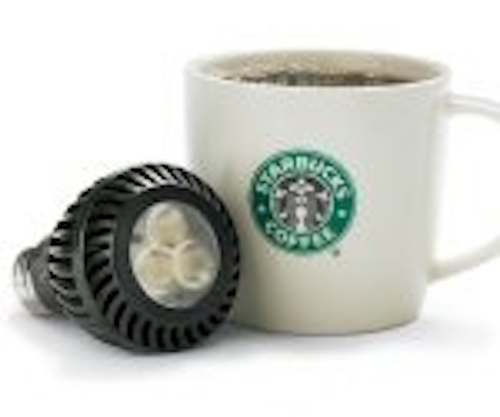 Starbucks Coffee Company has begun implementing its LED lighting conversion program, the result of an alliance with GE Consumer & Industrial to develop a solution that will help reduce energy consumption as well as utility and maintenance costs at Starbucks stores around the world.
As a separate part of the company's "long-term commitment to environmental stewardship," Starbucks has also entered into the construction phase of the US Green Building Council's LEED® Volume Certification pilot program, which will enable the company to reduce the environmental impact of its stores on a global scale with significant cost and time efficiencies.
"Our new green construction methodologies and lighting efforts have the rigor to help us achieve our environmental goals and the flexibility to support our scale," said Arthur Rubinfeld, president, Starbucks Global Development. "Through innovative leadership and collaboration, the USGBC and GE have made valuable contributions that are advancing our sustainability initiatives."
LED lighting conversion program
In 2008, Starbucks explored the substitution of incandescent and halogen lighting with LED lighting to conserve energy, but found no commercially available LED product that met the company's aesthetic and functional requirements.
As a result, Starbucks reached out to GE to identify a solution. With input from Starbucks about its specific needs, GE developed a highly energy-efficient LED product that complements Starbucks store design approach and fits existing fixtures.
"Our team jumped at the chance to create a GE-quality LED solution that could meet Starbucks stringent efficiency and color-quality requirements," said Michael Petras, president and CEO of GE Consumer & Industrial's lighting and electrical business. "Starbucks' aggressive moves on the conservation front will have far-reaching environmental and financial impacts. Other GE customers will benefit from these achievements."
Starbucks has begun implementing the LED lighting conversion program in all company-owned stores in the U.S. and Canada, and has already completed installation in more than 1,000 US locations.
It will expand the program to international markets in March 2010, aiming to complete installation in more than 8,000 company-owned stores around the world by the end of 2010.
Following global implementation, Starbucks projects a 7 percent per-store reduction in energy use. This improvement will contribute toward the company's goal of achieving a 25 percent reduction in energy use by the end of 2010.