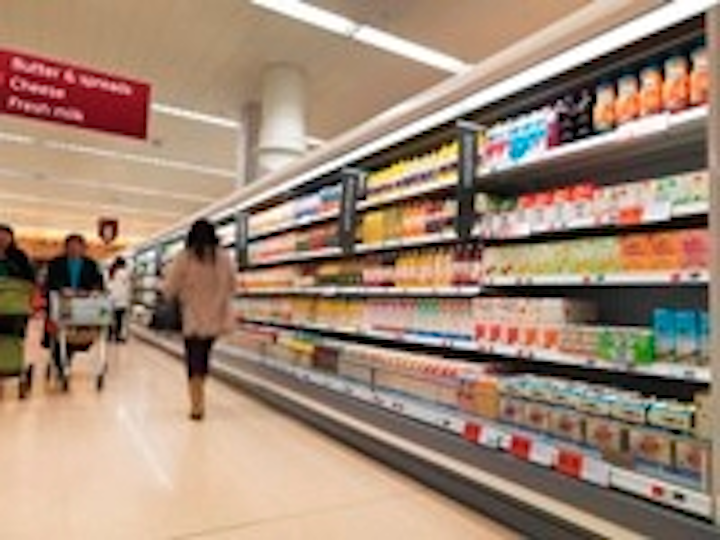 Nualight, an Ireland-based specialist in LED lighting for food retail, has been selected by Sainsbury's, a UK-based supermarket chain, to be its partner for a significant LED lighting program in refrigerated cases across all new and refurbished stores.
Nualight will supply Sainsbury's with LED lighting for low- and medium-temperature and speciality cases in all new stores. As well as enhancing the merchandising impact of the food displays, Nualight's lighting will support Sainsbury's targets to reduce its operational carbon emissions.
Nualight says that its LED lighting will reduce lighting-related energy consumption for Sainsbury's by 70% in low-temperature cases and by 40% in medium-temperature cases.
Harold Allen from Sainsbury's said that Nualight's LED lighting would "help to bring the quality food proposition to life" for the retailer's customers. "Lighting is used strategically to create the unique Sainsbury's store ambience and bring out the best qualities in the food on display in our stores," said Allen. "Nualight has worked closely with our lighting team throughout the pilot phase, identifying and resolving challenges to create the best possible merchandising impact in each application."
According to Liam Kelly, Nualight's CEO, the firm had to meet the particular needs and high standards of Sainsbury's lighting requirements. "Sainsbury's is an iconic retailer with a worldwide reputation for the quality and provenance of its food…the company requires an equally high standard of LED lighting. We look forward to continuing to meet Sainsbury's challenges with inventiveness, flexibility and technological innovation."
Sainsbury's stores will be supplied with Nualight LED-lighting products including Vivace and Perfino, many of which have been customized to create the best possible merchandising impact.
Vivace is a unique color-boosting CRI technology specifically designed to solve the problem of dark spots and dullness of color (particularly in greens, oranges and reds) in fresh food displays. Sainsbury's will use Nualight's Alto Vivace lighting in all meat, seafood and bakery serve-overs, with fixtures designed into the frame of the cases for a sleek finish.
Sainsbury's is also the first retailer in the world to use Nualight's Perfino technology, which tackles the challenges of reflective packaging and visibility of the LEDs in multi-deck cases. As well as providing a more comfortable light for customers, the Alto Perfino delivers smooth illumination all the way to the bottom of the case and its high CRI design brings out the brightest colors in packaged food.
This latest Nualight deal with Sainsbury's follows similar transactions with other major retailers in Europe in 2011. In September of last year, the company announced the acquisition of Lumoluce, an LED lighting company based in the Netherlands, accelerating its move into full-store LED lighting solutions.