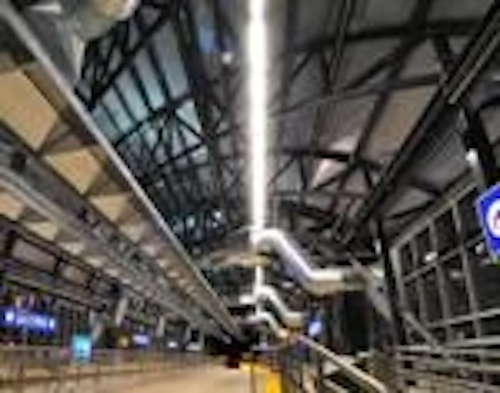 +++++
This article was published in the April/May 2012 issue of LEDs Magazine.
View the Table of Contents and download the PDF file of the complete April/May 2012 issue, or view the E-zine version in your browser.
+++++
A new process called Aura Infusion Technology has helped to alleviate one of polycarbonate's most significant shortcomings for outdoor applications: its vulnerability to yellowing after UV exposure.
The Aura process was first developed by Bayer MaterialScience in 2000 to enable infusion of organic materials into polymers after they have been formed through injection molding or extrusion. Recently, this approach has allowed the fabrication of UV-protected PC lenses for outdoor LED lighting applications.
For instance, Peerless Lighting of Berkeley, CA, an Acuity Brands company, has used the Aura processing to control UV degradation in the lens of its LED strip lighting fixture (Fig. 1). The 4 x 1-ft lens uses a clear Makrolon polycarbonate.
UV protection
Formerly, the high temperatures associated with injection-molding processes had limited the ability to combine PC with many organic molecules. The Aura process infuses a UV additive into the company's PC materials below 100°C after injection molding, avoiding break-down of the UV additives.
The resulting product's UV stability rivals that of polymethyl methacrylate (PMMA). High UV stability and resistance to yellowing (Fig. 2), when combined with polycarbonate's other properties of heat and impact resistance, make it a viable option for outdoor transparent applications such as LED lenses, covers and enclosures.
The process concentrates UV absorber into the top 0.2 µm surface of the polycarbonate. Light transmission is impacted minimally because a lighter total load of UV additives can be used. Therefore, efficacy is increased when compared to compounded UV materials which are dispersed throughout the polymer matrix at higher concentrations. The UV protection with the new process is fixed in the polymer matrix and will not delaminate like a coating.
Finally, the infusion process is sustainable because it works in a water-based medium and uses a minimum of organic additives. The liquid can be recycled and reused.
Bayer MaterialScience has licensed the Aura technology to Radco Infusion Technologies LLC of Toledo, OH, for worldwide use. Radco has developed automated systems for processing lighting components in its Ohio plant. Radco also has sublicensed its automation system for toll manufacturing by OmniFusion, LLC.