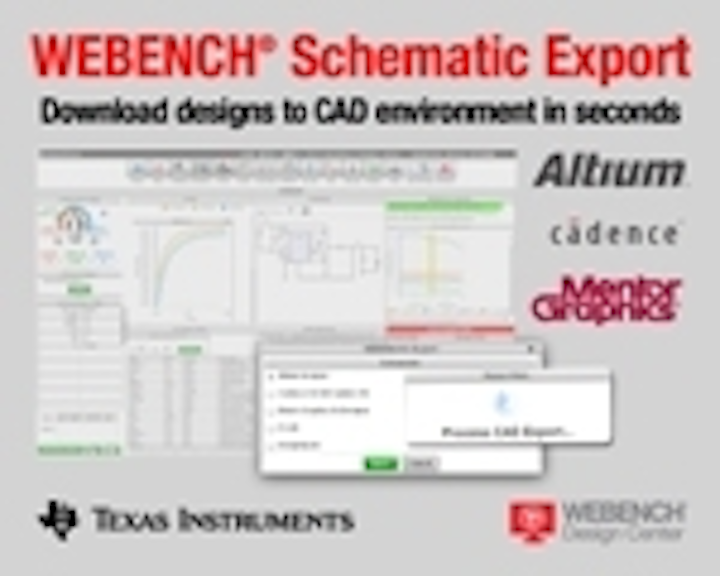 The Texas Instruments (TI) Webench online development tool has been a handy resource of solid-state lighting (SSL) product developers looking to accelerate the design of driver electronics. Now you can export your schematic of a driver for LEDs directly into leading computer aided design (CAD) programs from Cadence Mentor, and Altium.
TI made the Webench Schematic Export announcement of the international Electronica trade fair taking place in Munich this week. Indeed, the company is demonstrating the capability at its stand (#420) in the exhibits.
Webench was originally developed by National Semiconductor before that company was acquired by TI. The company says that more than two million power-supply designs have been created using the free online tool.
For LED-based projects, engineering teams specifically can use the Webench LED Designer tool to create a driver design using the portfolio of ICs offered by TI. You can then simulate designs and gather performance data before building a prototype, and ultimately accelerate product development.
The export capability takes the process to the next step, eliminating the need for the team to manually enter its schematic in a CAD program. "Engineers know that TI's Webench tools considerably reduce the time to create power and LED lighting designs," said Chris Donato, sales director of the Americas at Altium. "With the addition of Webench Schematic Export, the engineer no longer needs to manually enter the design into the CAD platform, nor is there a need to worry about errors made in the process. Now, designs created with Webench Schematic Export easily and expertly convert to Altium Designer in seconds."