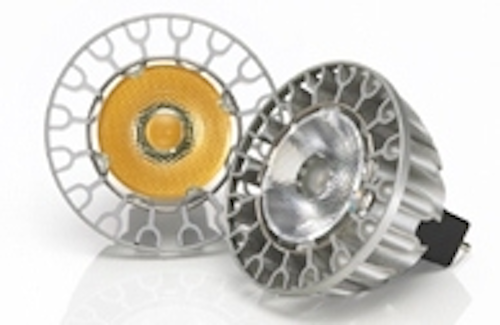 Ushio Inc., a global provider of high quality lighting products based in Tokyo, Japan, has announced that as of November 1, it will begin selling the Superline LED MR16 lamps based on technology from Soraa, a startup firm based in Fremont, CA. The Superline LED lamp is based on LED chips produced using Soraa's
gallium nitride (GaN)-on-GaN semiconductor process.
Ushio will sell the MR16 LED lamps through its subsidiaries in Japan, Taiwan, Korea, Singapore, and Germany.
The GaN-on-GaN chips allows for LED lighting products that more closely match the black body curve that is produced by halogen and incandescent lamps than existing LED lamps. Unlike competing lamps, Soraa's LED MR16 offers coverage over the entire spectral range and has no pronounced blue peak or violet and cyan dips. Having overcome the blue overshoot commonly associated with poor color quality, Soraa's LED MR16 lamp are designed to deliver unparalleled performance in color quality and color rendering. For example,
Soraa's Vivid MR16 lamp
featured a CRI of 95 and R9>90 at 3000K color temperature.