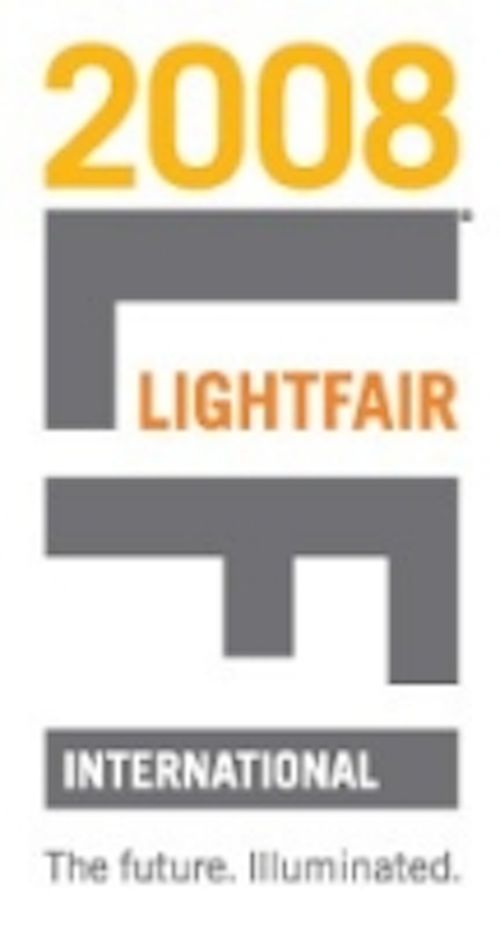 Live from Las Vegas,
LEDs Magazine
brings you the daily LightFair report.
The bright lights will not only be on the Las Vegas strip — they'll also be at the Las Vegas Convention Center, as the number of exhibitors for LightFair 2008 has set an all time record over previous years in both Las Vegas and New York. Meanwhile, LightFair 2008 registration momentum is on target and expected to exceed previous years in Las Vegas, said Tara Tuschinski, public relations senior manager.
Photometrics workshops
Today's conference program included two workshops detailing the process of interpreting and understanding photometrics, both in indoor and outdoor luminaires, a crucial part of relating to the data presented by solid-state luminaire manufacturers. Greg Subisak of Holophane, Acuity Lighting group, led the morning workshop. In an interview, Subisak said, "IES procedure currently doesn't allow for valid testing of SSL and any testing is questionable at best." He further stated that the testing protocol is key at this time.
In discussing LED binning, Subisak said, "Not all (LEDs) are the same. With incandescent, a light source is a light source and LED does not have this consistency." He added that characterizing each LED (in a light engine) with drivers is essential. "There should be tighter binning to characterize the LED with finer detail. It will be an industry effort, but it is possible and (LED) manufacturers know this information."
Light Up the World Foundation
All ears were on today's luncheon keynote speaker, David Irvine-Halliday of the Light Up The World Foundation (LUTW) from Calgary, Alberta, Canada. LUTW is an international humanitarian organization dedicated to illuminating lives of the world's poor. LUTW has improved the quality of light and thus improved the quality of life in the remote villages of the developing world. This David has met the Goliath of a challenge and has devoted himself along with his wife Jenny to this effort.
"It is amazing what one watt can do!" said Irvine-Halliday in response to the issue that he clearly outlined as, "When the sun sets, they (the villagers) are left in the dark."
"With the unlikely ability of providing free food, you can provide light for free," said Irvine-Halliday, who closed his presentation to a standing ovation, further comments and a plethora of questions, including "How can we as an industry help?"
David makes me proud to be a Canadian! As LEDs Magazine's Canadian columnist, I am always exceptionally pleased to report on Canadian activities and firsts in SSL and this is no exception.
It seems that there is something about Las Vegas and Canadian keynote speakers: two years ago, David Suzuki also received a standing ovation. Speaking to the industry that accounts for over 20% of the global electricity consumption, Suzuki never expected such a reception to his environmental concerns, but commented that he was exceptionally pleased to see the message embraced by an industry that can make a difference.
Kudos to LightFair for selecting such engaging and passionate (and Canadian) speakers!
LED technology for lighting folk
A sold-out workshop entitled "LED Technology for Lighting Folk" was presented by lighting designer Kevan Shaw from Edinburgh, Scotland, to a standing-room-only audience. Asked what the challenges are for "lighting folk" Shaw responded, "Obtaining the 'real' information or story!" Shaw's presentation outlined what designers should know and where the pitfalls can be found.
In an interview, Shaw was positive about the controllability of LEDs and the relative efficiency of color, but still concerned about getting usable quantities of light. "There should be a clear standard that relates to practical situations," he said. With respect to the future, Shaw was excited that LEDs could provide a vehicle for the collection of energy. When discussing the ban on incandescent lamps, he was concerned that the European goals set for the incandescent ban are not achievable by any other technology, including SSL.
On the matter of industry collaboration, before the workshop, Shaw, a proponent of the Professional Lighting Designers' Association, commented on a strained relationship with the IALD over this year's show and hoped that a resolution could be achieved to work harmoniously.
Upcoming workshops
Tuesday, May 27, brings another day of great presentations and workshops and one day closer to the opening of the trade show on Wednesday. Industry information obtained indicates that Lamina is planning to release their new GU10 and MR16, and that Nexxus will be making a significant announcement.
Nancy Clanton and Naomi Miller will present a workshop entitled, "Sustainability vs. Lighting Quality — Does it have to be a Trade-off?" on Tuesday at 9 am. When it comes to energy efficiency and SSL, most designer professionals will favor light quality over energy efficiency, with due reason. It will be interesting to hear these speakers' perspectives on this contentious issue.
On Wednesday, the US Department of Energy will formally announce 20 million reasons why we will see the acceleration of solid-state lighting development at a 1 pm press conference.
Also on Wednesday, at 2 pm, John Curran will lead a seminar entitled, "100,000 Hours of Life & Other LED Fairy Tales," in the ongoing saga to present the myths and truths of SSL. Elly McCloud, LightFair executive director, commented that this seminar has been the highest subscribed of the conference and will be a sell-out. Hopefully, everyone will lunch on this topic and take a bite of Curran's reality sandwich.
Clinton Climate Initiative visit
A delegation from the Clinton Foundation's Clinton Climate Initiative led by Lighting Domain director Michael Cavallo will be touring LightFair in their ongoing assessment of SSL technology and products for their outdoor public space and commercial building aggregation initiatives that are intended to alleviate the barrier of first costs.