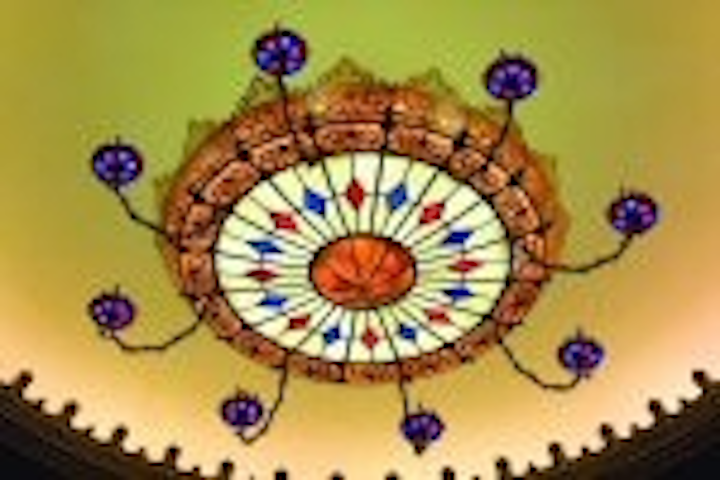 Meyda Tiffany, a leading manufacturer of decorative lighting, has installed what it claims to be the largest LED chandelier in the world at the Stanley Center for the Arts in Utica, New York. After nearly a year of planning and construction at Meyda's facilities in Yorkville, NY, the fixture was illuminated on Wednesday, April 2.
Custom crafted of steel, blown-glass and acrylic, the Stanley Chandelier is 35 feet in diameter, 17 feet tall, and weighs 7,000 pounds.
The LEDs were supplied by ARAD, based in Utica, NY. According to Tullio Dell Aquila, a total of 200 Luxeon K2 devices were used for the center section, with 124 screw-in style E14 candelabra lamps for the outer fixtures. "The E14 LED screw-in lamps in the glass fire globes flicker to create a very realistic flame effect. The other interesting thing about the LED system incorporated into the fixture is that it is AC dimmable, so that the lighting system in the Stanley Theatre used to dim the house lights can also dim the chandelier," he said.
The LEDs were carefully placed throughout the truss work to eliminate any shadows or hot spots. "No optics were used whatsoever," said Dell Aquila. "Meyda Tiffany sanded the inside surfaces of the glass panels to act as a diffuser, and the LEDs were typically two feet or greater away from any glass surface in the fixture. My concept was to spread the light as evenly as possible, but also to aim the modules so that the light is not only trapped within the fixture but is also reflected upwards from the glass surfaces."
The fixture uses a total of 1,120 total watts (the equivalent of energy used for one drip coffeemaker), instead of conventional incandescent bulbs requiring 7,435 watts (energy equivalent of 17 refrigerators).
The fixture was assembled in several sections of tubular steel trusses, plus a dozen sections of other steel trusses, framework and decorative embellishments.
The chandelier, hand-finished in Antique Gold and Bronze, was designed to complement the theater's Mexican baroque Moorish theme. Each truss includes a steel arm featuring a hand-painted green and white, red glass-eyed serpent spiraling down.
At the tip of each arm is a bobeche (eight in all), each with a diameter of 36 inches and designed to hold seven candles, ranging up to two feet in height. The bottom of each bobeche has been designed with a red and blue acrylic to coordinate with the nuances of the theater's color scheme. Sculpted steel candlesticks simulating wax drippings, feature blown-glass diffusers replicating candletip flames.
The project also includes a Constant Tension Device that lowers the chandelier from the ceiling so it can be re-lamped, cleaned and maintained easily. The chandelier's interior includes a catwalk that cannot be seen from below, but enables maintenance personnel to walk around the fixture.