Halo Lighting installs unique lighting ceiling in London nightclub
Halo used 768 of LED-Lites' X-Panel LED tiles to follow the curvature of the arches in the ceiling.
Apr 28th, 2008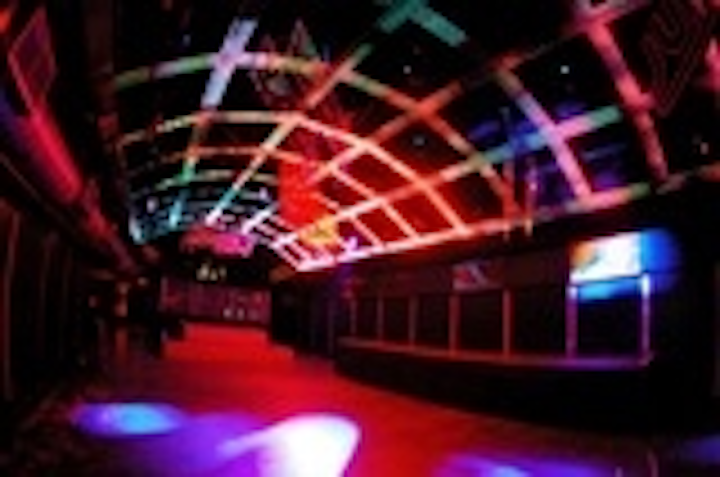 The London nightclub Area and company Halo Lighting have constructed a lighting ceiling customized around LED-Lites' modular X-Panel LED video matrix tiles. Originally opened in the summer of 2006, Area is a part of the gay leisure strip under Vauxhall Arches, on the Thames Embankment, along with clubs Fire, Crash, BarCode and Factory.
The Halo Lighting design team led by Yann Guenancia set to the task of removing the X-Panel housing and building a precision metal custom made metal grid. This would enable him to contour the 200mm x 200mm panels, with their 40mm pixel pitch, in lengths to follow the curvature of the arches and place the dancers in a uniquely immersive environment.
The company developed the ceiling architecture in three layers. First, they had to provide a combined rigging and electrical infrastructure to feed power and hang all the lighting fixtures; then they had to create an adjustable framework from which the repackaged X-Panels could be secured with minimal tolerance.
Finally, Halo had to package the fixtures into modular panels 2 m and 1 m long, and assemble the whole structure on site to create the matrix. "It was the modularity of the X-Panel that enabled us to do this — but if you think that the slightest deviation on an 18 metre line of LED's would show up instantly, you get an idea of how complex this task was," states Guenancia.
The Unistrut frame would contain no fewer than 768 of the X-Panels, hooked up to two dedicated X-Image Pro 36 data drivers — each capable of controlling 36 x DMX universes at high speed, and handling the pixel mapping.
Into this fabric Halo also incorporated 30 x 120 mW laser heads and 30 moving lights. This technical challenge required a mighty drive rack and statistically no fewer than 57,000 DMX channels.
With the grid installed, the pixelated display was ready to be animated with lo-res AVI graphics stored on the ArKAos media server (now distributed exclusively in the UK by LED-Lites) — all under the master control of a ShowCAD PC, stationed in the technical booth.