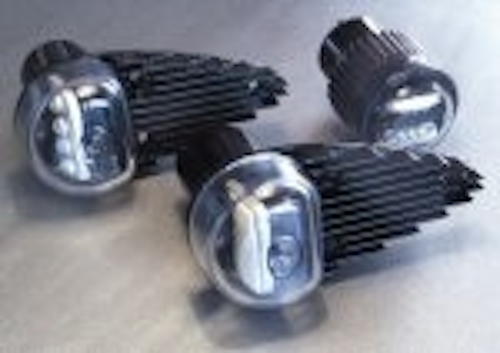 Oxley Developments Company Ltd, a UK-based manufacturer of electronic and electro-optic components for defence, aerospace, civil and industrial applications, has secured an order to supply a suite of LED external navigation and anticollision lights for the BAE Systems HERTI Unmanned Air Vehicle (UAV).
The fully autonomous HERTI provides a surveillance and reconnaissance capability, and the lights have been developed to withstand the potentially harsh environments in which they will be deployed.
Based on the operational requirements, Oxley has designed a custom suite of navigation, wing tip and anti-collision lights. Rugged, lightweight and low profile, the HERTI lights use high intensity LED technology pioneered by Oxley to meet FAR/JAR 23 lighting requirements, including 400cd white anticollision, in significantly smaller packages than previously. They are qualified to withstand shock, vibration and other environmental requirements specific to the vehicle.
The HERTI lights are coloured Aviation red, white and green as standard. NVIS friendly, covert and other customised solutions are also available. The lights provide known benefits associated with LEDs including zero maintenance, high Mean Time Between Failure (MTBF) – typically 40,000 hours - and low through-life maintenance costs.
Oxley is an established and reputable supplier of aircraft lighting systems world wide, and the company anticipates that further UAV lighting contracts will follow in the future.
BAE Systems will be exhibiting the HERTI UAV and a prototype suite of Oxley navigation lights at the Farnborough 2008 International Air Show next week.