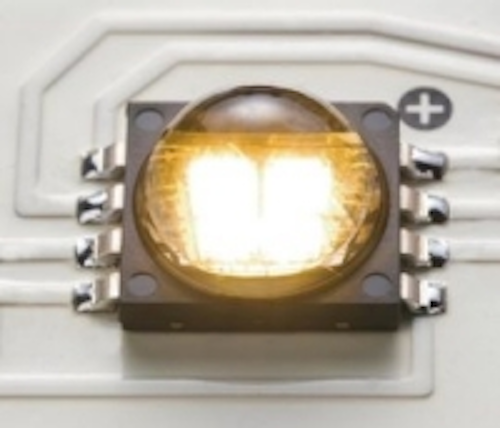 Cree Inc. has announced revenue of $140.4M for its fiscal 1Q09, ended September 28, 2008. This represents a 24% increase over revenue of $113.4M in 1Q08 and a 3% increase over 4Q08 revenue.
"Revenue growth was driven by LEDs, including another strong double-digit increase in XLamp sales. LED lighting sales [in general] grew by double digits," said Chuck Swoboda, Cree chairman and CEO. In fact, the Cree press conference revealed that LED revenues increased 32% over the same period last year, and 6% sequentially to $123.3M.
GAAP net income was a slightly less rosy picture. For the first quarter, net income was $5.9M, or $0.07 per diluted share, which was less than half the net income of $12.7M or $0.15 per diluted share for 1FQ08. Net income for 1FQ08, however, benefited from a realized gain on investment of $10.8M or $0.13 per diluted share.
GAAP EPS of $0.07 per diluted share for the 1FQ09 includes expenses totaling $7.3M, net of tax, or $0.08 per diluted share related to amortization of acquired intangibles and stock-based compensation expense.
X-Lamp success
A lot of Cree's current success, according to company officials, can be attributed to the growing popularity and sales of its XLamp family of high power LEDs.
"The strong increase in gross margins [this past quarter] was primarily the result of higher throughput in our LED chip factory and improved XLamp yield, which resulted in higher XLamp product margins," Swoboda.
Cree is making progress with the XRE and XRC models already released, especially in China, and the new XP and MC series coming on line give the company an added "opportunity to increase yields."
What's coming for 2FQ09
For its 2FQ09 ending December 28, 2008, Cree targets revenue in a range of $142-$146M with GAAP earnings of $0.07 to $0.08 per diluted share.
"As we start our second FQ, we continue to evaluate the impact of the recent turmoil in the global financial markets on our customers and our business," Swoboda said. "Current customer forecasts for LED products remain pretty solid. But we anticipate, however, that economic uncertainty and lack of consumer confidence will have some impacts on the markets we serve.
"Our targets for FQ2 indicate we should be able to deliver sequential growth, but we're becoming more cautious about FQ3, which is historically a slower quarter for Cree. As a result, we're taking a more conservative approach to operating expenses and capital spending in the near term. However, we still plan to make new investments to support the targeted growth in LED components and lighting product sales," concluded the CEO.
Cree's product families include recessed LED down lights, lighting-class power LEDs, high-brightness LEDs, blue and green LED chips, as well as power-switching devices and radio-frequency/wireless devices.