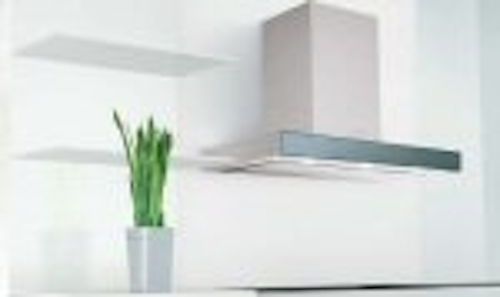 Two new case studies from Philips Lumileds have highlighted the advantages of using LEDs to replace halogen lamps in applications such as cooker hoods and dental lights.
Faber slims down kitchen lighting with Luxeon LEDs
A case study from Philips Lumileds describes the lighting design for the new cooker hood from
Faber
, Italy's top manufacturer for the residential market. The Faber Cooker Hood case study is available at
www.philipslumileds.com/pdfs/CS19.pdf
.
The design objectives for Faber's new, ultra-slim cooker hoods, supplied to Hikari of Italy, were to provide a design that met the following specifications:

• To be thinner than any cooker hood previously released to market - just 20mm in profile
• To eliminate the frequent failure-and-replacement cycle experienced with conventional lamps
• To provide a color temperature and quality that would complement the contemporary, high-tech feel of the overall design.
"I knew straight away that only one technology-power LEDs-was going to be able to meet the design specifications," said Sergio Macchioni, Hikari Technical Director. "Power LEDs offer the combination of features that we needed - small size, long operating lifetime and the potential to get a neutral-white color temperature."
Cooker hood lighting units operate in a very hot, steamy environment and Hikari's evaluation and investigation showed that Luxeon Rebel LEDs offered excellent performance in high temperature environments for both light output and operating lifetime. Quality of light was addressed through the supply chain to ensure that color temperature and flux would be appropriately grouped together in each luminaire.
One of Hikari's key objectives in selecting the appropriate LED, according to Macchioni, was to be able to "trust the manufacturing and distribution capabilities" of its chosen supplier.
Gnatus implements Luxeon LEDs for advanced dental lamp
Gnatus, a leading dental equipment manufacturer, has released a Luxeon-based dental lamp that is the first in the industry to use solid-state lighting technology.
The new Gnatus Dental Lamp LED Plus overcomes the inconveniences associated with conventional halogen models, including short bulb life, high power usage and spillover light that has in some cases prompted dentists to supply patients with sunglasses, while also offering significant advantages for dental care.
A case study on the Gnatus Dental Lamp is available at www.philipslumileds.com/pdfs/CS21.pdf. Benefits of Gnatus' Luxeon-based dental lamp over halogen alternatives include:
• 40% brighter than halogen products
• 12-25 year life compared to 3-6 months
• 60% reduction in power consumption
• True white light, improving dental diagnosis and resin matching for crowns, veneers and other restorations
• Reduced heat output, eliminating dentist and patient discomfort
• No peripheral light shining in patients' eyes
• Smaller, sleeker design enabled by eliminating the need for large reflector required for halogen product
The illumination from Luxeon LEDs also has less effect on curing light resins, giving dentists more time to do restorative work before the resins harden.
"Luxeon technology has enabled a real advance in the way that patients' mouths are illuminated during dental exams and surgery. Our Dental Light LED Plus has features that simply are not possible with halogen lighting, and that has made it one of the most successful products we have ever launched," said Gnatus CEO Gilberto Nomelini.