LED fixtures enhance swim center architecture
Clarity in Sound, Light and Vision specified and fitted the fixtures housed in compact IP65 flood enclosures to the Hatfield, UK, swim center ceiling.
Jun 10th, 2008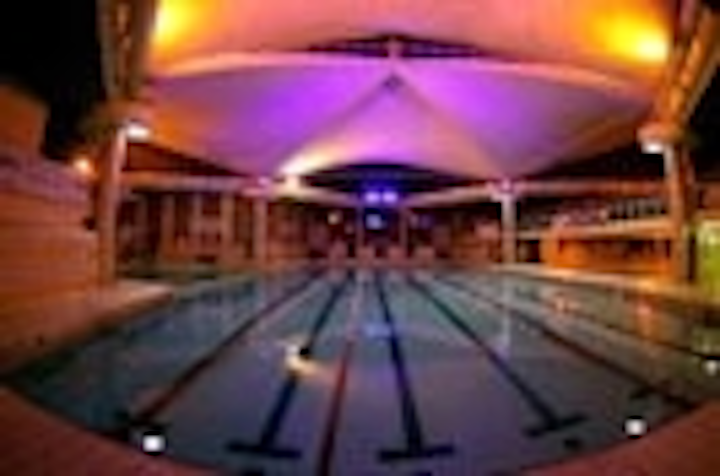 As of last month, 24 LED fixtures are now installed in the ceiling of a Council-owned Hertfordshire, UK, swimming pool building, reducing the pool's carbon footprint and pleasing the pool's visitors.
The story of the LED lighting there began with the radical remodelling of the pool building between 1989 and 1991, which resulted in a new type of building geometry, topped off with a giant hyperbolic roof, which at that time was the largest of its type in the world.
During the first quarter of 2006, The Finesse Leisure Partnership, who manage the Hatfield Swim Centre for Welwyn Hatfield Council, completed a £750,000 council-funded refurbishment of the technical infrastructure for the local authority.
At that time, the facility's system integrators, Clarity in Sound, Light and Vision, introduced Finesse to the idea of LED lighting to enhance the discharge lighting in the high-humidity environment.
Thus, 18 months ago, the integrators specified and fitted 12 of Pulsar's ChromaFlood 200 fixtures (each containing a combination of 66 red, green and blue LEDs) — and the installation proved a huge success.
With a maximum power consumption of just 200 watts, these high-powered LED fixtures are housed in a compact IP65 flood enclosure — perfect for architectural applications in high-humidity environments such as swimming pools.
Finesse's Health & Fitness Manager, Amanda Morris, said that it was always in the plan to double their complement of Pulsar fixtures once they had received their Carbon Trust Grant (an initiative to accelerate the move to a low carbon economy and encourage commercial low carbon technologies).
"It was imperative that we reduced our carbon footprint — and in the last year have spent around £800,000 improving our two sites with this in mind," she said. One of these phases was to introduce more LED into the swimming pool — as the amount of energy LEDs draw in comparison with the big floods is minimal.
With design and installation support from Pulsar, Stuart Graham's team set to work, installing 12 more ChromaFlood 200's, divided into arcs of six at either end of the pool. The system was commissioned last month.
However, it was no easy task. The unusual continuous-curve geometry of the vast roof forced them to experiment with different beam angles, projecting onto the drop sail roof, to gain optimum impact. As a result, four are fitted with a 45° angle lens (for close ceiling work), four with a 25° spread (for mid-ceiling projection) and four with an 8° attachment (for longer-range projection).
The lighting is driven from a Pulsar Masterpiece Replay 216, with an OS1 Outstation compact 12-button, 54-channel DMX programmable control desk. There are over 40 scenes programmed into the controller — ranging from gentle crossfades to static presets (including one all-white).
Morris says that her management team are already identifying preferred scenes which are not only proving hugely popular with their clientele, but also the community travelling past the heavily-glazed building at night, and marvelling at its architectural impact.