Philips claims first with office building entirely lit using LEDs
Philips Lighting France will light an office building in Paris using LED fixtures to achieve both functional and decorative lighting.
Jun 26th, 2008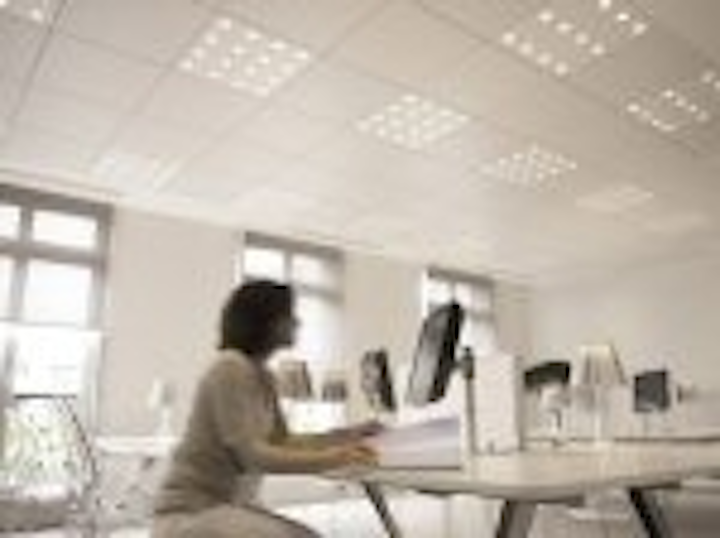 Philips has used LED fixtures to light an entire office building in Paris. The office, owned by Generali and located at 100 Champs-Elysées Avenue, Paris, "marks a milestone in lighting history" according to Philips. The company claims that, for the first time, functional office lighting powered entirely by LEDs goes hand in hand with scenic and atmospheric effects that are also based on LEDs.
The project came together with architect Anthony Béchu who had been commissioned by Generali to design "an innovative window in the world of LEDs".
LED lighting improves people's well-being and gives designers more flexibility in the layout of open spaces and ceiling design. It removes the restrictions on lighting orientation that is often dictated by the use of fluorescents tubular lamps. Because of the extreme long lifetime of LEDs, the maintenance costs are kept to a minimum.
Throughout the office spaces, the functional office lighting is realized through 422 luminaires integrated in a false ceiling with 600 x 600 grids. Each luminaire is powered by 16 or 12 high power (2.6 W) LEDs, depending on their location in the office space. This provides an average of 300 lux everywhere and 500 lux on the working planes.
In addition, recessed SpotLed 3 K2 luminaires, each with 3 Luxeon high-power LEDs, are applied in the corridors. The solution complies with lighting norms and standards on energy consumption, illumination levels and visual comfort [* see footnote].
To create the desired ambiance, Generali chose a scenario of LED-based color-changing light effects. The glass façade of the top two floors is lit, communicating the image of the building towards the outside world like a beacon in the night.
Thierry Braunecker-Becker, General Manager, Philips Lighting France, said "We have been leading the world by unlocking the potential of LED for scene setting, creating atmospheres and lighting up landmark projects with dynamic colorful LED solutions."
"We recently announced a broad range of applications for general lighting, and today is the day that the LED enters into general lighting for offices. This marks a moment of truth and is proof that LEDs are making inroads into the heart of the lighting industry. This is exciting and it will accelerate the growth of solid-state lighting."
Philips expects the world market for LED luminaires to grow rapidly by more than 30% per year driven by the entrance of LEDs in general lighting, from about EUR 700 million last year to EUR 1.5 billion in 2010.
* Footnote
Energy consumption regulations: Réglementation Thermique 2005 - the reference value for lighting is 12 W/m2
Lighting standards for offices in terms of illuminance levels and visual comfort: European Lighting Standard for indoor work places (EN 12464-1)