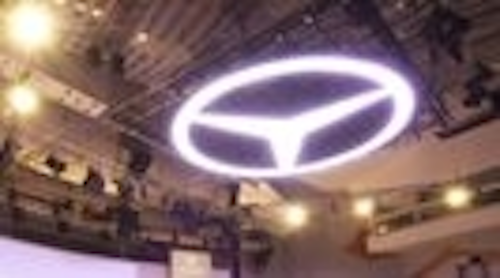 LED system for Mercedes event
At a recent event staged by Mercedes-Benz in Stuttgart, German company tarm LED GmbH & Co. KG installed its TARMLED 4x4 system horizontally above the heads of the ~400 invited guests.
At the finale of a short laser performance, the Mercedes star appeared in breathtaking brightness on the auditorium's "LED sky" and bathed the entire interior in light.
With TARMLED 4x4's lightweight construction and daisy-chain cabling from module to module using just a single combined power and data line, the total weight of the ~50 square-meter creative LED surface, including all power supplies and processors, was only ~600 kg.
Weight was an essential factor in arranging such a production, due to the limited load-bearing capacities of the existing suspension points. Data transmission from the control panel to the "LED sky" via a fiber-optic cable provided interference-free control over the entire system.
Another criterion for using TARMLED 4x4 was its 82% transparency, which allowed its installation beneath the auditorium's sprinkler system without adversely affecting fire protection.
Chandelier for Swarovski Crystal Palace exhibition
On the occasion of the Swarovsky Crystal Palace exhibition in Milan in mid-April, Austrian company LDDE created a shimmering piece of artwork designed by the famous architect Zaha Hadid.
The artwork was composed of 2800 Swarovski crystals with integrated LED lighting. The special construction consisted of 86 crystal LED traces (each 7-16 metres long) that could be mounted in different directions and designs.