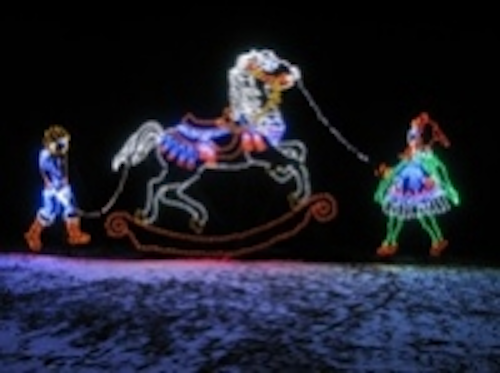 LED lighting will be widely used in a host of decorative lighting installations throughout the holiday period, and we've been asking readers to send examples that they've seen in person, or that they've been involved with. Below are some of the results.
(If your company has been involved with a project and you have a full press release, you can post it here).
Large holiday light show starts converting winter festival to LEDs
December 23:
One of America's largest holiday light shows, the Winter Festival of Lights at Oglebay in Wheeling, West Virginia, started converting to LEDs this year. LED lights will be used in all new displays and some existing displays, including the Rocking Horse (see photo). The entire show should be LED by 2012. The Winter Festival is viewable Sunday through Thursday until 10 pm and on Friday and Saturday until 11.
GardenFest of Lights to display 18 miles of LEDs in Richmond, Virginia
December 18:
Last year, Garden staff began replacing GardenFest lights with LEDs to save money on energy costs. This year, displays and attractions include more than half a milion LED lights including flamboyant peacocks (see photo), luminous ten-foot dragonflies and larger-than-life butterflies. The GardenFest is open through Monday, January 12 from 5 pm-10 pm.
Denver Botanic Gardens' winter wonderland features 500K LEDs
December 10:
With the Colorado foothills as a backdrop, more than one million twinkling lights illuminate the beauty of a forest path at Denver Botanic Gardens at Chatfield. Nearly half of all the lights used on the new Trail of Lights use LEDs. In the photo, the four cottonwood trees hold well over 100,000 LED lightbulbs alone.
Photo courtesy of Scott Dressel-Martin.
TarmLED and UVA team up on LED installation at London's Covent Garden
December 5:
As part of its "Delight Christmas" campaign this year, Covent Garden commissioned a light-based sculpture called "Constellation," which hangs from its ceiling. Designed by United Visual Artists, the sculpture comes with a total of 578 two-meter long TARMLED double-sided LED strips and 37 data power distribution units.
PolyBrite's Borealis LED light bulbs will illuminate Chicago's Daley Plaza Christmas tree
December 2:
Today, the City of Chicago, Illinois, and Underwriters Laboratories present Chicago's 95th Annual Christmas Tree Lighting Ceremony in Daley Plaza. This year, PolyBrite International's Borealis energy-efficient red, green and white LED light bulbs have been strung on the 85-foot tree. The lights will remain on 24 hours a day, 7 days a week until the first week of January.
Columbus Zoo switches out half of holiday light show with LEDs
November 24:
Half of the Columbus (Ohio) Zoo and Aquarium's 20th annual Wildlights display will be illuminated with LEDs this year. Once the 3 million lights in the show are all LEDs, the zoo expects to save $16,000 a year in electricity costs.
Photo courtesy of M. Pogany and the Columbus Zoo and Aquarium
Winter Light Show, Kuwana, JapanNovember 20:
Our first example comes via the
Gizmodo
website, and is an installation of 4.5 million LEDs at the Nabana no Sato theme park in Kuwana, Japan, forming the centerpiece of their annual Winter Light Show that runs until March 8.