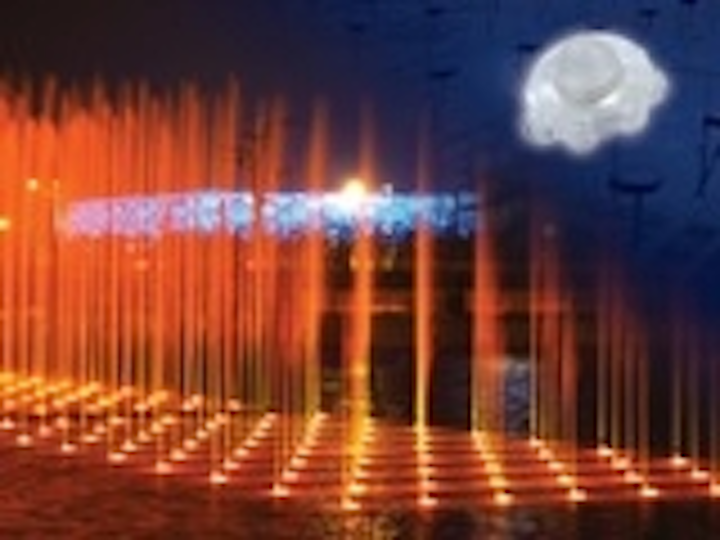 Dragon-shaped water fountains for the Olympic Games were outfitted with Osram's Golden Dragons, with lens and enhanced thin-film LED components, providing the "dragon" with its characteristic golden glow. Installed last month in Beijing, the fountains are located along the northeast side of the Bird's Nest and the Water Cube in the Olympic Park.
More than 600 meters long, the fountain is formed by thousands of tiny water jets arranged in a long, gentle curve cutting through the Olympic Park, comprising a river stretching two kilometers long. The dynamic jets launch water columns as high as six meters, creating a kind of rolling wave, like the body of a dragon as it glides through the air.
At the base of each column, mounted 10 cm underwater, a lamp containing 24 Osram Golden Dragon LEDs radiates yellow light upwards to a height of 15 meters, illuminating the dragon for four to five hours every evening, turning an already impressive visual into a truly stunning sight to behold. Altogether 1,920 lamps containing 46,080 Golden Dragon LEDs help bring the dragon fountain to life.
"The first time Tong Fang discussed their idea for the dragon fountain with us, I knew Osram had to be involved, as it was a perfect opportunity for us to show the versatility, efficiency and advanced technology behind our Golden Dragon LEDs. This kind of innovative and creative thinking is precisely how we aim to revolutionize the lighting industry in China and the rest of the world," says Alfred Felder, CEO of Osram Opto Semiconductors Asia.
Tong Fang, a company engaged in the information technology, energy and environment industries, ultimately chose to work with Osram Opto Semiconductors because of the certain benefits. The LEDs come with one of the narrowest viewing angle integrated lenses in the industry (just 20°), taking up less space and reducing the need for secondary optics. Furthermore, the high optical efficiency (61 lm/W) of these yellow LEDs enhances energy efficiency, while the over 50,000 hours lifespan (under proper operating conditions) minimizes maintenance costs.
"We've already received extremely positive feedbacks from people who've witnessed the fountain in action, especially with respect to the golden color, which resonates with traditional Chinese perceptions of dragons, as they symbolize power, prosperity and celebration; and this summer is set to be one of the biggest celebrations ever," says Miao Chen, GM at Tong Fang.