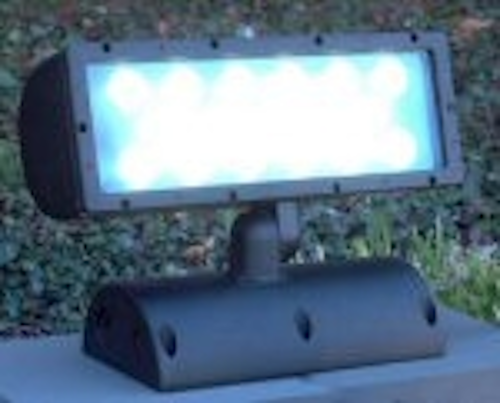 The SV Lighting business unit of Nexxus Lighting has introduced what it describes as the industry's first LED floodlight for general illumination that operates on direct line voltage, without the need for an internal or external power supply.
The
SAVI™ SHO White
Floodlight is a new white-light LED floodlight for interior and exterior applications that can operate on a standard 120VAC supply. The fixture utilizes Seoul Semiconductor's new 4-watt Acriche LEDs.
SV Lighting says that it has patents pending on the technology, and plans to launch additional direct 120 volt products for the commercial lighting market in 2008.
The floodlight is wired like any line voltage floodlight and is available in a 5600 K color temperature. The sealed housing is constructed of cast aluminum alloy and is IP66 rated.
According to the spec sheet, the floodlight, containing 17 Acriche LEDs, operates at 68W (or 4W per emitter) and has a total lumen output of 1394 lm (equivalent to 20.5 lm/W).
LEDs generally operate from DC voltage and therefore require internal or external power supplies to convert line (AC) voltage down to low (DC) voltage. According to Nexxus, these power supplies add cost, can have a shorter life than the LEDs and can potentially be a weak link in the system.
Juno AC-driven LED module
Other companies have also started to introduce lighting fixtures that utilize AC LEDs; one example is the Trac 12 LED linear lighting system from Juno Lighting. The Juno
LED modules
are available in 3000K and 5000K color temperatures and operate from a 12V AC supply.
At 12 V, the 3000K version operates at 0.6 W and produces 16 lm (27 lm/W), while the 5000K version produces 24 lm (40 lm/W).