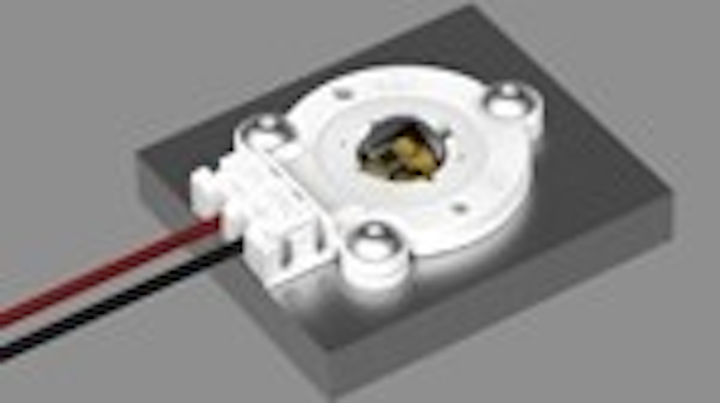 Tyco Electronics has announced a new solderless LED socket to complement the new Philips Lumileds Luxeon S LED that targets general-lighting applications. Both products were announced at the Strategies in Light conference. The socket complies with UL-1977 specifications.
The socket is designed for un-lensed applications and the design ensures that emitted light is unobstructed. Tyco asserts that 98% of the light is unimpeded by the socket. The socket is offered with or without an snap in connection that can hold a secondary optics in place.
The design supports reflectors manufactured by Ledil. The company offers the Venla series in a variety of beam angles and the reflectors snap directly onto the socket.
The Type LS design allows for easy termination of 24 AWG wire to the socket. To secure the LED in place, a stainless-steel spring applies uniform force to ensure both a reliable electrical connection, and an optimum thermal connection to eliminate heat from the semiconductor junction. The socket simplifies the installation of the Luxeon S LED on a heat sink, utilizing a plastic frame that mounts to the heat sink.
The Philips LEDs should prove popular in luminaire designs because Philips is breaking new ground in testing the products at elevated operating temperatures and selling the components in a single bin. The Tyco socket will help teams quickly deliver luminaires based on the new LED.
Future Lighting Solutions is stocking the socket, the Philips LEDs, the Ledil reflectors, and applicable driver products.