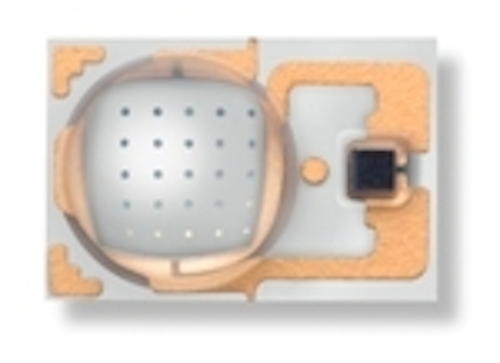 The new Philips Luxeon ES royal-blue LED delivers wall plug efficiency (also called overall luminous efficiency) of 56% at 350 mA for remote-phosphor-based solid-state-lighting (SSL) designs. For LED lamp and luminaire designs that use white LEDs, Philips announced the Luxeon A LED that measures 2 mm2, and that is part of the company's Freedom From Binning program.
The royal-blue Luxeon ES is the same emitter that Philips uses to make the Luxeon Rebel ES white LEDs, except the LEDs targeted at remote-phosphor applications aren't coated with phosphor. Some industry participants believe that a remote-phosphor design, where the phosphor is coated on a diffuser lens, delivers superior efficiency relative to white LED sources that still use a diffuser. Intematix, for example, offers optics with a remote phosphor and claims a 30% efficiency advantage for its technology.
Philips asserts that its royal-blue Luxeon ES offers the "industry's highest wall plug efficiency" and that's clearly the reason why they are promoting that particular LED for remote-phosphor applications. But Philips did not offer any quantitative comparison on how the blue ES stacks up against blue LEDs from competitors, or other Philips blue LEDs.
Steve Barlow, Philips senior VP sales and marketing, said, "Regardless of the approach our customers choose, producing the highest performance white LED-based system design or the most efficient remote phosphor solution requires that you start with the very best royal blue LED device technology."
The new Luxeon A
On the white light front, Philips announced the Luxeon A LED that comes in 2700K and 3000K color temperatures and all Luxeon A emitters fall within a single 3-step MacAdam ellipse on the black body curve. The Luxeon A is the first single emitter that is part of the company's Freedom From Binning program that it launched at Strategies In Light in February. The Luxeon A joins the multi-emitter Luxeon S in the program.
Philips will hot test the Luxeon A LEDs at 85°C – typical of real world conditions. Moreover the company has developed a Lumiramic phosphor technology that's matched to the characteristics of each emitter to deliver the 3-step color consistency.
"We are intent on delivering illumination-grade LEDs that improve the state-of-the-art in lighting," said Barlow. "Our Luxeon LEDs are delivering performance that does not require sacrifices in the quality of light for homes, restaurants, shops, and other applications in pursuit of energy efficiency and reduced operating costs."
Philips is building the Luxeon A on the same platform that underlies the Luxeon Rebel ES product family. But for now, only the former is offered with no need for binning.