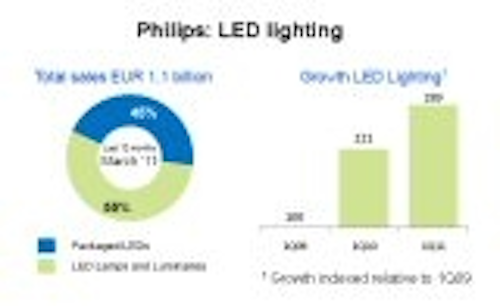 Philips
Philips' lighting sales reached EUR 7.6 billion (USD 10.9 billion) in the 12 months ending March 2011, representing growth of 6%.
Philips also said that sales of LED-based products (packaged LEDs, lamps, luminaires etc) were 14% of total lighting sales, or EUR 1.1 billion (USD 1.595 billion).
Packaged LED sales by Philips Lumileds represented 45% of total LED product sales, or around EUR 495 million (USD 717 million), for the year ending March 2011. Sales of LED lamps and luminaires accounted for around EUR 605 million (USD 876 million).
As shown in the graph, sales of LED products in the first quarter of 2011 were almost three times higher than in the first quarter of 2009.
The company expects that the global lighting market will grow at a CAGR of 7-9% during 2010-2015, to around EUR 80 billion.
Cree
Cree, Inc. (Nasdaq: CREE) has announced revenue of $219.2 million for the quarter ended March 27, 2011. This is 6% down compared to revenue of $234.1 million for the same quarter last year, and a 15% decrease compared to the previous quarter. GAAP net income was $18.9 million, or $0.17 per diluted share, down 58% year-over-year.
Near the end of March, Cree revised its revenue forecast to between $215 million and $220 million, down from the previous estimate of between $245 million and $265 million, primarily due to lower sales of LED chips and LED components. Despite the revision by Cree, analysts were expecting $221 million, and shares fell 6% in after-hours trading.
Cree's LED-related revenue was $194.3 million in the March 2011 quarter, down from $229.7 million in the previous quarter. In the same quarter last year, LED revenue was $211.8 million.
Cree's total LED product revenue for the last four quarters (up until March 27, 2011) was $908.5 million, compared with the Philips figure of $1.595 billion.
"Q3 results were in-line with our revised lower targets for the quarter," stated Chuck Swoboda, Cree chairman and CEO. "The results reflect both our continued success in LED lighting and the challenges of managing the LED chip and components business through a business cycle with short lead-times and low order visibility."
For its fourth quarter of fiscal 2011 ending June 26, 2011, Cree targets revenue in a range of $225 million to $245 million.
SemiLEDs
Earlier this month, shares in SemiLEDs Corporation (NASDAQ: LEDS) were hit hard by a disappointing results announcement. Revenue for the quarter ended February 28, 2011 was $10.0 million, a 30% increase compared to $7.7 million for the same quarter last year.
"While we believe the long term market opportunity of LEDs has not changed, the quarter did not meet our expectations relative to revenue, EPS or gross margin due to the aggressive, competitive pricing environment and our decision to preserve our market share," said Trung Doan, Chairman and CEO of SemiLEDs.
GAAP net loss for the quarter was $1.2 million, or a loss of $0.05 per diluted share. GAAP gross margin was 23%, compared with 41% in the same quarter last year. Similarly, GAAP operating margin was negative 6%, compared with 28% in the same quarter last year.
SemiLEDs said that its margins were negatively impacted by previously-announced pricing pressure, lower capacity utilization, change in product mix, as well as a shortage in metal-organic chemical precursors.