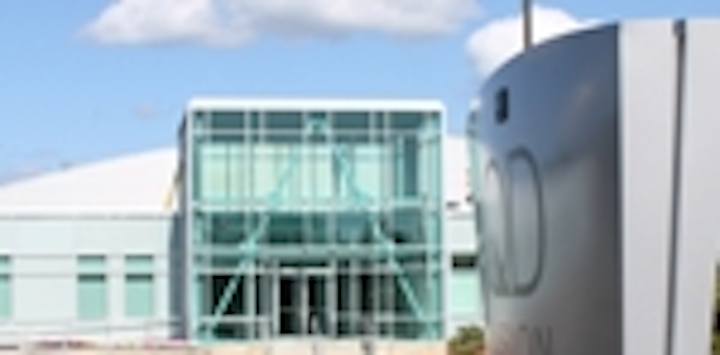 QD Vision moves to production facility for quantum dots
QD Vision, Inc. a maker of quantum dots for display and solid-state lighting applications, has moved to a high-volume production facility in Lexington, Massachusetts, in anticipation of several new products launching in 2012. The facility houses the company's global headquarters, and its production and development facilities.
In displays, the addition of QD Vision's Quantum Light optics can reduce manufacturing and operating costs, says the copany, while providing higher system efficiency. For SSL, Quantum Light optics enables LED lamps to produce highly efficient, incandescent-like white light.
QD Vision made news late last year when it entered an agreement with Solvay to develop a printable electroluminescent platform for quantum-dot LEDs (QLEDs).

Ikon Semiconductor receives EUR800,000 in funding
Ikon Semiconductor Ltd., a fabless semiconductor company and developer of single-chip power converters for the LED industry based in Dublin, Ireland, has received a EUR800,000 ($1.09 million) investment in a round led by Kernel Capital and the Bank of Ireland Seed Fund. Other funding came from Simple.ie Green BES Fund, Enterprise Ireland and private investors.
Ikon will use the funds to support the development of its single-chip power converter, which resides within the LED lamp and powers the LED while improving efficiency, cost, power factor, dimmer compatibility and size of the lamp.
"The Ikon solution is simpler, smaller and less costly than the competition, and so enables its customers to tackle previously unreachable markets, while simultaneously helping our environment by reducing the power consumed through replacing old-style lighting," explained Orla Rimmington, operations director, Kernel Capital.
Donal Duffy, head of Enterprise Ireland Relations, Bank of Ireland, described Ikon Semiconductor Limited as "a true example of how an investment of this type can support a home-grown Irish company to strategically grow in the LED lighting market, which is critical for the company and also as part of Ireland's economic recovery."

Toshiba LED Lighting Systems gains new leadership
Toshiba International Corporation (TIC), a Houston, Texas-based wholly-owned subsidiary of Toshiba Corporation, has hired several lighting veterans, to lead its LED Lighting Systems Division. Industry veteran Ken Honeycutt has assumed the role of senior vice president of TIC and chief venture executive for Toshiba LED Lighting Systems Division.
Honeycutt's background in the lighting industry includes experience with several lighting companies including Acuity Brands Lighting, where he rose to the position of CEO and president.
Mark Altomare, Peter DallePezze, Keisuke Ono and Jim McKenzie round out TIC's senior management team.
In July 2011, TIC announced that 20 of its LED lamps had received the US Environmental Protection Agency (EPA) Energy Star label.

LBT appoints new executive team
Light-Based Technologies Inc., a developer and manufacturer of control and power electronic solutions for solid-state lighting (SSL) based in Vancouver, BC, announced the appointment of three additions to its senior management team including Art Aylesworth as CEO, Matthew Watson as COO and Barry Hagglund as CTO. Aylesworth is a former CEO of fellow BC-based SSL specialist Carmanah Technologies.
LBT recently closed the majority of the funding it announced last fall, which was led by Chrysalix Energy Venture Capital and VantagePoint Capital Partners. This funding will provide the financial resources needed to commercialize LED-related technologies, products and intellectual property as LBT releases its first products into the market in the coming weeks.

Labsphere appoints new senior management team
Light metrology equipment maker Labsphere (a subsidiary of Halma plc based in North Sutton, NH), has made two senior executive appointments, following the move of company president Kevin Chittim to sister company Ocean Optics (Dunedin, FL), a manufacturer of spectrometers. Jack Kelly has joined the company as president, while Peter Weitzman, vice president of sales, has been promoted to senior vice president of Labsphere.
Kelly comes to Labsphere from another Halma company, Fiberguide, based in Sterling, NJ, where he has served as president since 2009. Prior to joining Fiberguide, Kelly held positions as president of Emerson Electric, Bristol Babcock, Axsys Technologies and PMT.