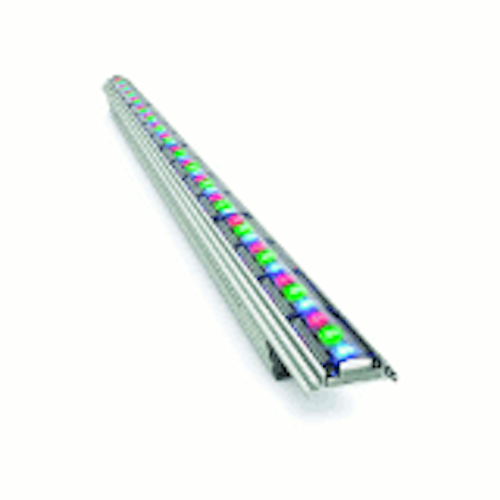 View the E-zine edition and download PDFs from the e-zine platform
.
+++ Cover +++
Charged with revitalizing a downtrodden railway area in Birmingham, AL, the REV Birmingham organization turned to lighting sculptor Bill FitzGibbons, who highlighted the Art Deco style elements of the "LightRails" project with a mix of Philips Color Kinetics color-tunable luminaires and a controller (see page 33; all images courtesy of Bill FitzGibbons).

+++ Features +++
CONFERENCES
SIL Europe fosters communication amongst technology innovators and financiers
The full-day Investor Forum at the 2013 Strategies in Light Europe event is just one of the opportunities that should inspire collaboration between financial entities, solid-state lighting companies, and startups to keep this high-growth industry moving, reports Katya Evstratyeva.


ARCHITECTURALBirmingham celebrates railroad history, connects city center with LEDs
Maury Wright explores how a renowned light sculptor used dynamic LED lighting to connect a new urban park with the city center in Birmingham, Alabama, and to simultaneously celebrate the historic role the railroad played in the city's history.
RETROFIT LAMPSLEDs ready to displace halogen in MR16 lamps
Despite the small size, thermal challenges, and high-CRI requirements of LED MR16 retrofit lamps, Mark Youmans and Mark McClear write that it is now "game over" for the halogen incumbents.
EUROPEAN REGULATIONS
Energy efficiency may come at the cost of consumer confidence
As the European Union's EcoDesign Regulation requirements continue to escalate, Caroline Hayes reports that LED replacements for mains-voltage halogens may not deliver on consumer expectations on time, while directional SSL lamps are moving faster than the pace of the scheduled phase-out.




SSL DESIGNLED modules advance in performance, standardization questions persist
Modular LED light engines can without question accelerate SSL product development, especially with the better color consistency offered today, reports Maury Wright, but the market remains fractured with a mix of proprietary and Zhaga-compatible products.
DIMMINGCareful design delivers halogen-like LED dimming
Enabling LEDs to follow the black-body radiation curve isn't black magic, and Uwe Thomas explains a successful approach to the challenge of dimming SSL products to warm CCTs.
DESIGN FORUMIncrease LED driver efficiency without a sense resistor
Seeking to improve driver efficiency for portable power applications, Chris Glaser and Jim Chen explain a voltage-regulation technique known as high-side sensing, which eliminates the lossy sense resistor component by relying on a MOSFET.
LAST WORDOptical silicones enable LEDs to compete for lighting applications
Kaz Maruyama, global industry director for lighting solutions at Dow Corning, states that the choice of silicone materials in LEDs can enable a more cost-effective efficacy boost than chip innovation in some cases.




+++ Columns/Departments +++
COMMENTARY
Color consistency matters, but to whom?
NEWS + VIEWS
GE Lighting supplies Evolve area LED fixtures for Kia front line
Philips LED Hue highlighted in Photon Pod at London Design Festival
Colnatec and Novaled partner, University of Utah pursues white OLEDs
Retrofit lamps: Cree, Osram Sylvania, GE Lighting
TowerJazz and DMB launch AC driver, Linear Tech offers 110V controller
Patents: Intematix, Nichia
Packaged LEDs: Cree, Lumileds, Osram Lighting networks at SALC
INTERVIEWPhilips Lumileds CEO moves to expand breadth of LED offerings
Ella Shum interviews Philips Lumileds CEO Pierre Yves Lesaicherre, asking tough questions about the increasingly competitive LED market, Lumileds' plans for the future, and the challenge of serving a vertically-integrated lighting manufacturer and the commercial market.
FUNDING + PROGRAMS
LightingEurope publishes research on LED-based human-centric lighting
EPA publishes final Energy Star Lamps v1.0 specification
DOE publishes fact sheet on the lifetime and reliability of LED-based lighting