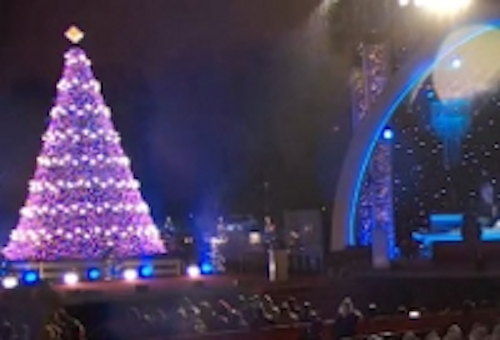 GE Lighting has announced that for the 51st year its products have been used to light the US National Christmas tree located at President's Park in Washington, DC. The design this year includes a garland made with 7-in. spherical, LED-based, warm-white ornaments combined with sugar-plum-based light stings and an LED-based, star-shaped light on top of the tree.
"We are very proud to be part of this great tradition and to be able to bring new technology into the design," said Mary Beth Gotti, manager of the GE Lighting Institute and holiday lighting designer for the National Christmas Tree. "Each strand of GE LED holiday lights consumes up to 80% less energy than incandescent holiday lights and provides similar light that consumers love from traditional incandescent holiday lighting."
The US National Park Foundation that hosts the tree said that the lighting design consumes a total of 5700W. The foundation said the use of LEDs delivers 80% energy savings overall and equates that to avoiding burning one ton of coal and a 5700-pound reduction in carbon emissions.
The ornaments were designed to enhance the aesthetics during the day, appearing as large snowflakes while enabling dynamic presentations at night. In total there are 265 ornaments on the tree and 225 LED light strings. GE designed the star on the top of the tree using the commercial-grade Tetra Max LED system that is generally used in professional signage applications and that provides a bright and sparkling tree topper.
You can see the lighting of the tree using LEDs online at the National Park Foundation website. In addition, UL is a sponsor of the tree and is operating a raffle for a National Christmas Tree Lighting poster.