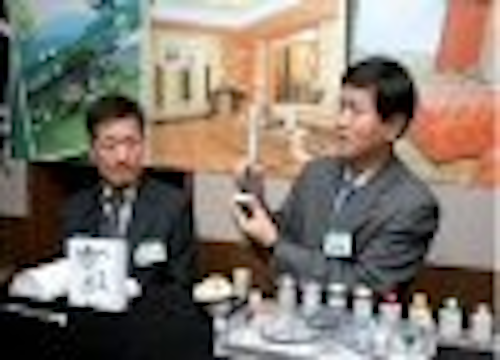 Seoul Semiconductor, a leading Korean LED manufacturer, presented its "LED for AC" product during a press conference on January 26, after first unveiling its new technology last December.
The AC-LED operates directly from a household AC power supply (220 V in Asia) without the need for an AC-DC converter. Typical power LEDs require a DC voltage of around 3.5 V.
A similar announcement was made at around the same time by III-N Technology Inc of Manhattan, Kansas (see III-N Technology unveils single-chip power AC-LEDs). Although full details have not been revealed, Seoul Semiconductor appears to use a similar approach to III-N Technology.
A spokesperson for Seoul Semiconductor told LEDs Magazine that the AC-LED chip is "made of several tens of LEDs connected in series by a special patent-applied design". The sum of the voltage drops across each of the individual emitters adds up to total voltage of the AC power supply (a resistor is also included in the circuit - see diagram).
Seoul Semiconductor did not reveal how the chip is able to run from an AC supply, except to say that "the AC-LED works on AC current with a special element". In III-N Technology's approach, there are 2 arrays of emitters, one of which is forward biased (and therefore emits light) during the first half of the cycle of the AC supply and the other which emits during the second half of the cycle.
The basic chip structure and design was developed by Dr. Sakai, a professor at Tokushima University in Japan. His company, Nitride Semiconductor, provided an exclusive license to Seoul Semiconductor Co., Ltd (SSC) to manufacture the die at Seoul Opto Device Co., Ltd (SOD), SSC's subsidiary. Both SOD and SSC have developed further intellectual property in the areas of die manufacturing and packaging technology.
The SSC spokesperson said that the company has been working on the AC-LED technology "since a few years ago" and has applied for patents in Japan, Korea, USA and Europe.
AC-LED performance
SSC presented some quite impressive performance results for AC-LEDs, which the company says has already passed reliability tests and been verified for mass producibility.
With an operating voltage of 220 V, the single chip device draws 15 mA for a total power consumption of 2 W, and produces 40 lumens with a luminous efficacy of 20 lm/W. SSC expects this value to increase to 30 lm/W during 2005, and also claims a lifetime of 80,000 hours (conditions were not specified).
By way of comparison, SSC presented figures indicating that power LEDs, which run from a 3.4 V DC supply and require a converter, have a luminous efficacy of 40 lm/W and a lifetime of 50,000 hours.
In its press conference, SSC described the benefits of its AC-LED technology, although many of these apply to LEDs in general. For example, if LEDs entirely replace conventional lamps in Korea by 2010, this could save 60 billion kWh of electricity, and remove the need to build seven atomic power plants. Also, the transition could reduce the production of greenhouse gases of coal-powered power stations by 6 million tons of CO2.