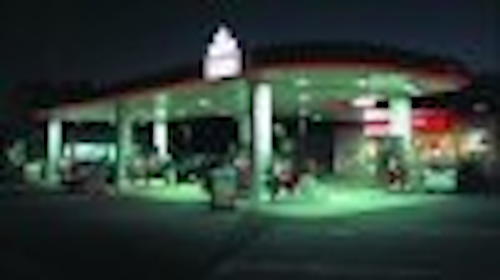 In August 2004, TIR Systems announced a three-year purchase agreement with Petro-Canada, one of Canada's largest petroleum retailers. The program involves the installation of TIR's red LightMark product instead of more conventional neon lighting in the canopies of all new Petro-Canada stations.
"The effect is that of a single band of light around the canopy, over the gas pumps, says David Monroe, VP of global sales in the Corporate Identity market. "TIR's LightMark system offers a continuous appearance, unlike neon and other systems that have gaps or breaks in the light every 7-10 feet. This helps people see and recognize the canopy from a distance and is a key element in the station's lighting architecture."
Monroe says that TIR has shipped product to about 20 stations since the contract commenced. The company has also been involved since 2002 in a much larger contract with BP, involving a total of 4575 service stations worldwide, most of which have now been fitted with the green LightMark product.
For BP, one of the major negative aspects with neon was the health and safety issue of a high-voltage source containing neon and argon gases that can be a source of ignition within a hazardous area.
As well as decreased greenhouse gas emissions and reduced operational costs due to lower maintenance requirements, LED border-tube products have considerably lower energy consumption than neon alternatives.
Petro-Canada installed a test site in Mississauga, Ontario, located near to a neon-lit service station. "Petro-Canada measured the electricity consumption for both stations over a period of a few months and determined that solid-state lighting signage used just 15% of the electricity required by neon," says Monroe.
"We were impressed with the proven field performance of TIR's Lightmark product," said Lance Ubell, manager of Engineering and Construction for Petro-Canada's Asset Management team. "It allowed us to meet our key objectives of reducing our operating costs and our energy requirements, while doing our part to protect the environment. Plus we really liked the look of it compared to the neon we were using."
Cost calculations
The one major downside with LEDs is the initial cost, which can range from 20% to 70% more than the cost of a neon system; the figure is typically in the 30-50% bracket.
However, this initial outlay is usually recovered within 2-3 years, depending on local electricity costs and other factors.
The key is to look at the lifetime cost-of-ownership figure. As well as the purchase price, this includes installation costs, maintenance costs over the lifetime of the system, and electricity consumption.
Maintenance is a key issue, because neon breaks; this happens often during shipping, while on average every installation requires at least one repair visit per year to repair breakages.
The lifetime cost-of-ownership formula is well known in the lighting industry, and TIR has developed a software calculation tool, available online at www.tirsys.com/resource-center/calculators-tools.htm, to help customers figure out how much they can save with SSL signage versus neon.
TIR has used its calculator to illustrate how a customer with 1000 stores could save $2.7 million annually by switching to a solid-state lighting solution.