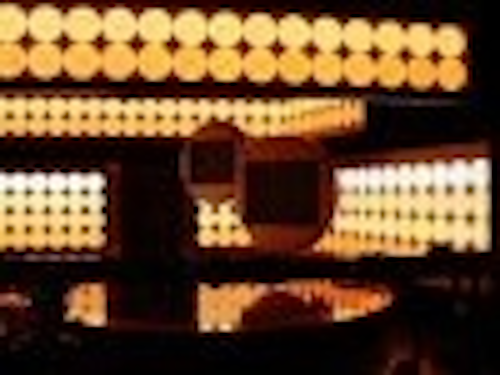 When the German TV station Kabel 1 presented its selection of "The 100 Best Films of All Time", it chose more than 350 of Pulsar's ChromaPanels to provide the studio backdrop.
Installed and designed by LED specialists Scholl & Schein Design in Munich, the panels provided an extravagant and flamboyant look, with individual parts of the stage designed to be controlled like a matrix.
REM
REM's European tour, which kicked off in Lisbon recently, featured several LED effects.
Suspended in front of sheets of polycarbonate material were 51 Color Kinetics iColor Accent low-voltage exterior architectural tube fittings, in lengths of 4 and 8 feet. Supplied by Bandit Lites, the color-changing tubes dangle randomly above the stage.
Also, XL Video supplied full video production for the tour, and crowned the stage with 14 panels of Lighthouse LV102 LED SuperScreen.