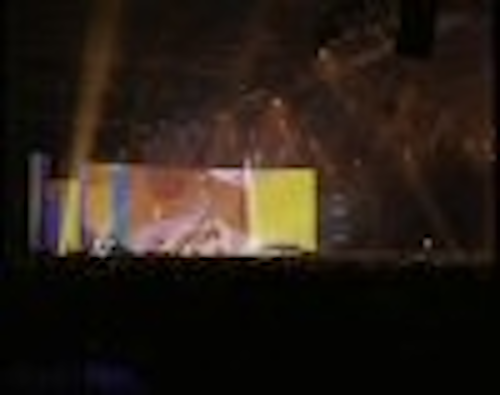 Dutch superstar Frans Bauer employed an enormous 500 square meter display as the backdrop for his series of Christmas concerts at the Arnhem Gelredome in the Netherlands.
With three sell-out 28,000 capacity shows over the Christmas period, the single location and spectacular venue allowed a level of production and theatrics which would be all but impossible on a touring show.
The centre piece of the set was the video screen, made up 500 square metres of Barco's D7 outdoor product, and assembled by Dutch video specialists JVR (an Avesco plc company). According to JVR, the display was arguably the largest and highest resolution display ever built Europe and perhaps worldwide if fixed installations are discounted.
Constructed from 2,496 Dlite 7 tiles, the screen measured 44m wide by 12m high. With an overall resolution of 3072 x 832, and a pixel count of 2.6 million, the display had a total of 12.8 million LEDs (or five LEDs per pixel).
JVR's sales director Jeroen Jongenelen commented: "The Barco D7 is the only system that offered the resolution required and was available in sufficient quantities to enable us to pull off a project of this scale. Even so, we ended up bringing in equipment from numerous suppliers, some within our group."
The entire system was built in six hours by three JVR crew and around 40 stage hands and it then took another 36 hours to cable prior to switch-on. Once on, the schedule allowed two further days for alignment and testing prior to the dress rehearsal. Supported on a purpose-built base and scaffold support, the 55,000 kg screen, consumed a massive 850 kW on peak white.