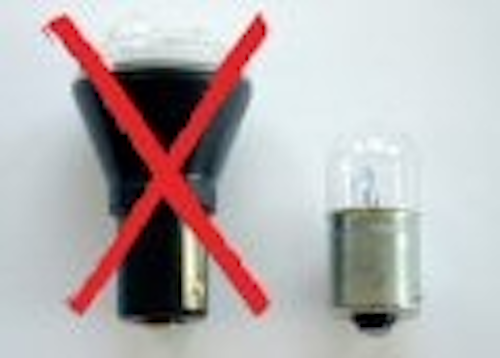 At an increasing rate, commercial vehicle owners and drivers are installing LED light modules in place of the filament bulb when replacing light sources in the tail lamp.
However, German lighting manufacturer Hella has warned that this could affect the general certification of the vehicle and invalidate its insurance protection.
"The optically trendy LED appearance quickly loses its shine if queries are made about whether such light source swapping is allowed," said a Hella press release.
The company says that even if the LED light module does fit on the filament bulb socket (BA15s), ECE regulation R7 clearly prescribes that it may only be anchored in a specially designed lamp module. It must not be installed as an individual spare part in lamps that have been designed for a R5W filament bulb.
If commercial vehicle owners and drivers do install an LED module on a filament bulb socket base, they violate the German Road Traffic Licensing Regulations (STVZO). This is because according to StVZO §19 Part B, any changes to the illuminative power of technical lighting equipment caused by a light source are prohibited.
The design certificates for the technical lighting equipment no longer apply and the vehicle's general certification becomes invalid. Insurance protection can no longer be claimed, either, if the incorrect use of the powerful LED module in the tail lamp dazzles other road users.
If the filament bulb R5W and is compared with a replacement LED module, it quickly becomes clear why it's important to be careful. The extreme differences in photometric, electric and geometric data between the two light sources do not allow them to be simply swapped.
The luminous flux of the LED light module is typically five times higher than that of the R5W filament bulb. A comparison of the outer dimensions also shows that the LED light module with its height of 45 mm cannot easily be fitted into the fixture for the R5W, which has a maximum height of 30 millimeters. There is also a difference in diameter; a maximum of 19 mm for the R5W and 30 mm for the LED module.
From a lighting perspective, the 22 cd produced by the LED light module significantly exceeds the permissible 10 cd for single-chamber tail lights. This means the light is much too bright and can dazzle those behind the vehicle, thus increasing the risk of accident.