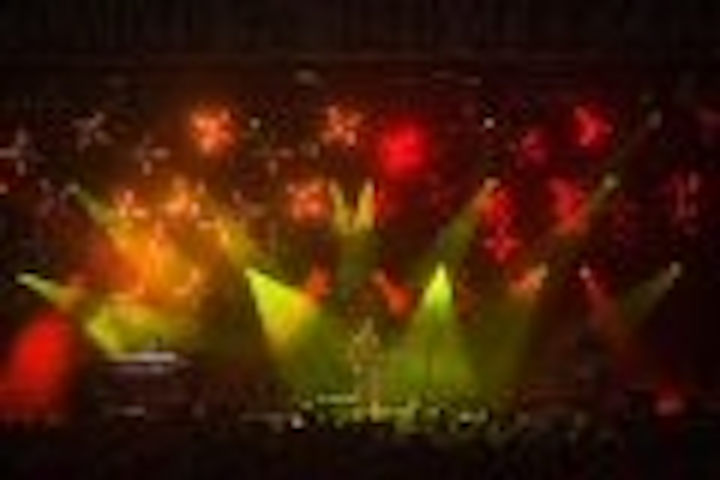 Mobile phone sales at record levels
The mobile phone industry had a record-breaking first quarter of 2005, with worldwide sales totaling 180.6 million units, according to market research firm Gartner. This represents a 17 percent increase over the previous high of 153.7 million units in the first quarter of 2004.
Based on these results, Gartner has increased its estimates for worldwide sales in 2005 to 750 million units, a 13 percent increase from 2004.
Nokia again dominated the market with a share of just over 30%, while Motorola and Samsung sold 30 and 24 million units, respectively.
PixelDrive on One Big Weekend
The latest version of James Thomas Engineering's PixelDrive software was in action at the Radio One "One Big Weekend" event in Sunderland, UK, to programme and control 240 Chroma-Q Color Block DB4 LED fixtures.
The fixtures were configured in star-like clusters and flown from back and mid trusses as a continuous backdrop of lights behind performers. The PixelDrive was triggered from an Avolites Pearl lighting console, dedicated specifically to LED control and operated by Joey Jevons of Electric Fly Productions.
PixelDrive imports video images into the LED fixtures which act as a projection surface, allowing the resulting patterns to be manipulated via a lighting desk. Complex lighting sequences can be evolved with 'virtual' imagery, which can then be sent to any multiples of LED products, using Ethernet to distribute across up to 256 DMX universes, vastly reducing the DMX allocation on lighting desks. LED configurations of all types can be emulated on the PixelDrive system, allowing LDs to pre-program and work as quickly and easily offline as they can in situ.
Carmanah launches next-generation solar-powered LED bus stop
Carmanah Technologies has launched its second generation i-STOP solar-powered LED-illuminated transit stop. The original i-STOP - in use by over 80 transit agencies and winner of the 2004 Canadian Urban Transit Association (CUTA) Award - is redesigned for 2005 with the new features for enhanced performance and accessibility. These include brighter illumination with new, higher-intensity LEDs, and large-diameter, LED-illuminated, stainless steel activation buttons.
Carmanah's solar-powered technology is a more environmentally friendly and cost-effective improvement to transit infrastructure than traditional lighting. Self-contained solar power eliminates expensive installation, digging, cable hookup and ongoing electrical costs. LEDs with a lifespan of 100,000 hours harnessed to Carmanah's Automatic Light Control and proprietary MicroSource power management provide maintenance-free operation for at least five years in virtually any climate.