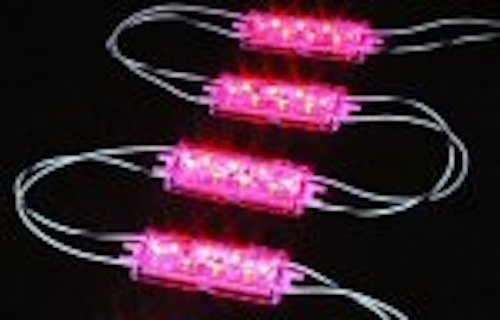 TIR Systems Ltd. has received a multi-location contract through its Cox Plastics distribution partner. This contract, with Cineworld, is worth over $100,000 and is the largest single customer order placed by Cox Plastics since the distribution agreement was signed in January 2005.
Cineworld is the fastest growing multiplex cinema chain in the UK and has recently expanded with the purchase of the UGC cinema chain. Cineworld asked their sign company partner, Image Technique Ltd., a leading UK sign manufacturer, to find them a simple but effective lighting solution to rebrand the 50 UGC sites to Cineworld colors. Image Technique Ltd. in turn approached Cox Plastics, TIR's UK distribution partner, which recommended TIR's LightScript channel letter illumination solution.
Red LightScript modules will illuminate the Cineworld lettering from within the channel letter units, with white LightScript modules being mounted behind the lettering to form a white halo effect to further accentuate the Cineworld branding.
When asked why TIR was chosen, Des Kenehan, the Director of Image Technique Ltd., commented, "We were very impressed with the ease of use, reliability and high brightness of TIR's LightScript product."
"The signage market in the UK is a tough market to crack but when you have total confidence in your products and your partners, you know these kinds of orders are going to come," said Jamie Manifold, National Sales Manager, Cox Plastics. "We are delighted that TIR's products are so readily satisfying a demand in the UK signage market and to have gathered so much interest and momentum in such a short time."
"Although the relationship [between TIR and Cox Plastics] is still in its infancy I am encouraged with the teamwork that won this order and I'm optimistic that the partnership can only grow and yield further success in the future with more such orders," said Robert Gray, Director of Sales for Europe, Corporate Identity Markets.