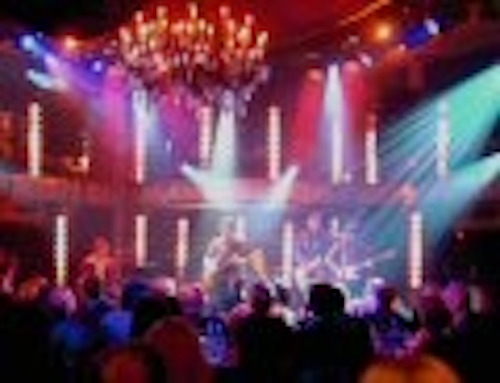 Telectra
has supplied ice*lighting battens to support the "One Pricless Evening" event at the Café de Paris in London, UK, and broadcast on Friday 2 December 2005 on Channel 4.
Forming the back of the set, ice*lighting™ helped PRG lighting designer, Ben Cracknell, create a warm and intimate atmosphere for this stylish setting.
"I was very impressed with the battens and the ability to get high visibility from a wide range of viewing angles on camera," said Cracknell. "Getting high contrast textures and video effects controlled by DMX was quite unique. I'm keen to use them on future projects and work on new media to put through them."
The 2005 MasterCard Priceless Evening brought together an exclusive line up of new and established artists performing a selection of current hits and classic songs. The acts included Texas, Ray LaMontagne, K T Tunstall, Athlete, the Corrs and James Blunt (pictured).
Chroma-Q™ Color Blocks supplied for Jamie Cullum tour
Lighting designer Andy Moore used seventy Chroma-Q Color Block from AC Lighting in his design for the final Jamie Cullum UK tour dates at London's Royal Albert Hall.
When Moore was looking to create some general stage wash lighting in a variety of colours using audience blinders fitted with colour changers, Kevin Ludlam and Neil Hunt of master contractor Zig Zag Lighting Ltd suggested he could achieve a better, richer range of colours with added flexibility and reliability from one of the latest colour-mixing LED fixtures.
Ludlam said, "We considered other LED products for this tour, but they just didn't offer the same flexibility as the Color Block in terms of our requirements. As well as using it at various angles to provide the main stage colouring, we've been able to use it for discreet lighting inside the piano and across the front of the stage as footlights."
Moore said, "Originally the idea was to just use Color Blocks for wash lighting the stage, but once I started playing with them I realised I could achieve much more visual impact by dotting them around the stage and using them to create some interesting coloured strobes and chases, all from the impressive built in effects engine."
The full lighting rig for the Royal Albert Hall dates consisted of three overhead trusses containing fifty Color Blocks, eight Tour Spots, forty eight Pars and six Source 4 profiles. A video screens truss containing five Color Blocks. Three Color Blocks inside the piano and twelve Color Blocks, four Tourspots and four Tourwashes around the sides and front of the stage. Control was provided by an Avolites Pearl desk.