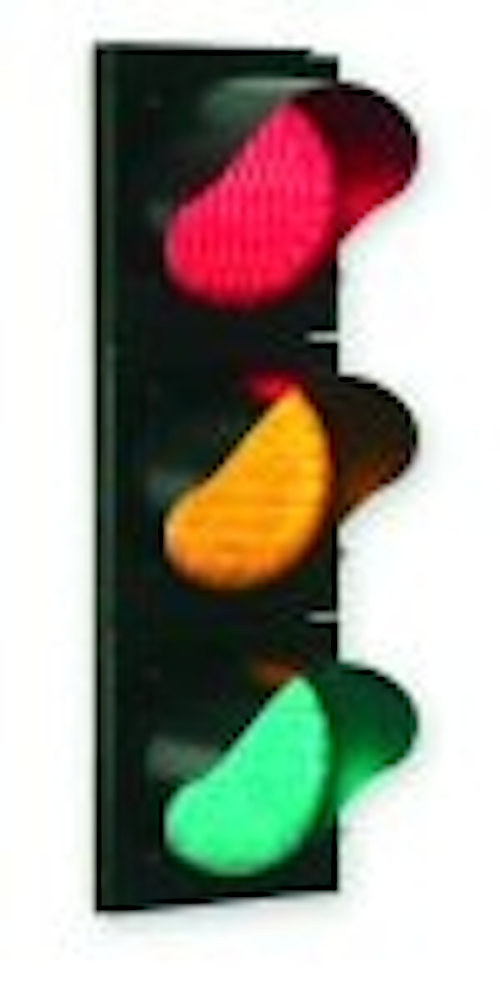 An LED-for-incandescent traffic-signal lighting retrofit of nearly 3,000 intersections and nearly 500 school flashers, flashing beacons and advance-warning flashers on state-maintained routes throughout the Commonwealth of Kentucky has been completed.
GELcore, LLC, has supplied an estimated 77,000 RX11 High-Visibility LED Traffic Signals which were installed during the five-month project (see Siemens to retrofit Kentucky traffic signals with LEDs).
The retrofit was initiated to reduce operational and energy consumption costs by as much as $3.2 million a year, as well as to achieve potential maintenance savings.
KYTC spent about $1.5 million in salaries and equipment usage annually replacing burned-out traffic signal bulbs. With LED illuminated traffic signals, maintenance workers are less frequently exposed to potentially hazardous, high-traffic job sites.
The average life span of incandescent bulbs used in Kentucky traffic signals is 10-11 months, while the average life expectancy of the chosen GELcore products are 8-10 years.
"Kentucky joins Delaware as the only states to use LED modules in all their traffic signals, school flashers and flashing beacons," said acting Transportation Secretary Bill Nighbert.
"We see this as a best-practices maintenance- and energy-savings story," said Kraig Kasler, vice president of marketing at GELcore. "This comprehensive installation of GELcore LED signals in Kentucky provides us with a platform for talking about the remarkable value of LEDs. We think government transportation officials throughout North America will take note."
RX11 High-Visibility LED Traffic Signals
The patent-pending optical design of the GELcore RX11 High-Visibility LED Traffic Signal features a unique lens system that provides an expanded viewing range and allows for precise control of light distribution to create maximum brightness.
The product line meets a range of classifications of the EN 12368 standard and delivers superior visibility under varying conditions. Offered in 200mm and 300mm configurations, the signals are designed and rigorously tested to deal with conditions such as sun phantom, light uniformity and color washout, which incandescent traffic signals struggle to perform against.
It comes with a five-year limited warranty, and the GELcore signals can deliver up to 90 percent energy savings compared to conventional traffic light sources.
The self-contained modules are easy to retrofit in most signal heads, and easy to maintain, since the patent-pending GELcore power supply works with various controllers.
The LED signals provide high contrast and brightness, dramatically improving visibility of traffic signals under all weather conditions, including rain, snow and fog.