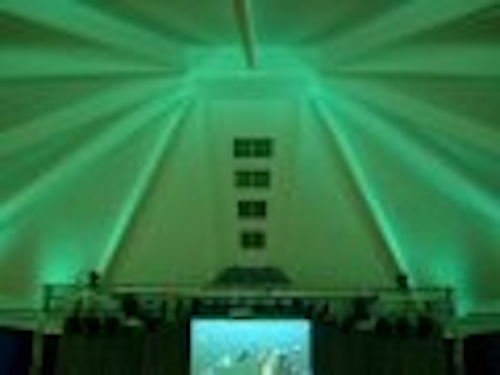 TMC Ltd have devised a tricky design solution for the Birmingham Christian Centre - an Elim Pentecostal church situated close to Birmingham's Broad Street - with the help of architectural effects provided by Lighting Effects Distribution.
Commissioned during the late 1980s, the building's ceiling is split into awkward asymmetric segments within a polygonal building shape. But the infrastructure had now become tired, and the visual and sound mixing aspects were in need of upgrade.
TMC's hire department had enjoyed a long relationship with the church's events department over the years. The contract sales team were consequently introduced to the project, and invited to work with the client to develop the scheme. It was evident that the existing low-pressure sodium lighting, with its familiar yellow hue, was inadequate and TMC were asked to design a concept in which the moods could constantly change, at the same time producing a lux level sufficiently bright to accommodate the school exams often held there.
By demo'ing different lengths of Solar L-Series battens, distributed by Lighting Effects Distribution, the installers were able to show they could reach the roof apex with uniform intensity of colour, while the discrete light source would enhance the aesthetic of the architecture.
The L-Series is a linear, aluminum-housed LED effect, with superior optics. It comes in a variety of lengths and other options, and is specifically designed for wall-washing. Two controllers are used at the Birmingham Christian Centre - a simple on/off switch for deskilled staff (containing two colour presets) and a lighting desk for more sophisticated manual operation.