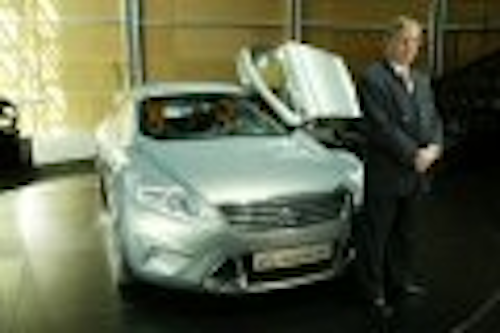 In the run up to the Frankfurt Motor Show (IAA), which opens next week, several companies have announced LED-based lighting solutions (see
Hella and Stanley develop LED headlamps
).
Ford of Europe has unveiled its latest concept car, the Iosis, which uses LEDs for front and rear lighting.
The front lamps have an inner circular turning LED for low beam with a vertical day time running light. On the outer edge is the amber turn signal, and beneath that are the ten main-beam LEDs; Ford says that these "emerge when lit from tubes like a series of lasers." The car also features LED fog lights.
The rear light cluster has a new design of tail lights employing a circle with a flattened top, flanked to the outside by the indicators and inboard by the stop lights. In addition to the obligatory high mounted stop lamp, there's an additional series of LEDs running above the venturi that automatically increase in intensity according to weather visibility or the driver's braking effort.
Ford describes the lights on the Iosis as "carefully crafted pieces of automotive jewelry mounted in milled aluminum structures."