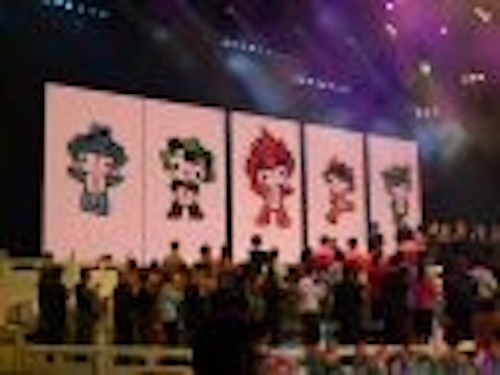 Lighthouse Technologies participated in the build-up to the Beijing 2008 Olympic Games with the use of a turnkey LED video solution for a gala ceremony held to mark the 1000-day countdown to the opening of the sporting spectacular.
Over 4000 spectators watched the ceremony, which included the unveiling of the official Beijing Olympic mascots, via a 16 meter wide x 5.28 meter high Lighthouse screen that took center stage at the Beijing Worker's Stadium.
Using 275 state-of-the-art Lighthouse R6 panels, laser beam silhouettes of the 2008 Olympic Mascots - Baibei the Fish, Jingjing the Panda, Huanhuan the Olympic Flame, Yingying the Tibetan Antelope and Nini the Swallow - were displayed on the giant LED video screen.
Commenting on the installation, Mark Chan, managing director for Lighthouse Technologies, stated that the screen for the Beijing 2008 Olympic Games 1000-Day Countdown, which totaled 84.38 square meters and projecting at a resolution of 2400 x 792, represented the largest 6mm rental deployment in which the company had been involved.
Chan expressed, "We had been working diligently on the design and configuration of the system for this event for many months and are delighted with the results particularly as the displayed images looked stunning both in the stadium and on television.
"However, the biggest achievement for us has been to help promote the Chinese people's passion, love and enthusiasm for the 2008 Beijing Olympic Games," concludes Chan. "Lighthouse Technologies is extremely proud to have been part of such a successful and prestigious event."