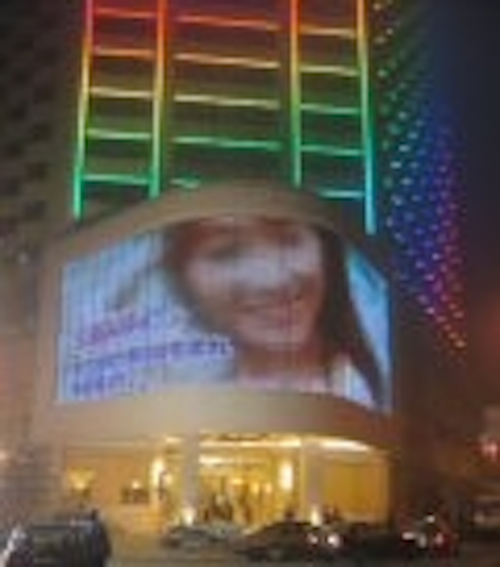 Color Kinetics has recently completed a series of high-profile installations of LED-based lighting fixtures at different sites in mainland China.
Most recently, installation of Color Kinetics' systems was completed at LG Tower, a multi-million dollar construction by LG Building Development Co., Ltd., whose 460-foot towers will be lit by more than 7,600 feet of Color Kinetics' iColor® Accent system.
Additionally, Color Kinetics' systems illuminate Sands Macao and Grandview Hotel in Macau; Garden Hotel in Guangzhou; the China Resource Centre building in Shenzhen, Tianjin (Yi Do Cam) Business Centre in Tianjin; Lilly's Restaurants and Nightclubs in Shanghai; and Chongqing Times Square in Chongqing, among others.
"Color Kinetics' success in mainland China reflects the strength of our technology, depth and quality of our product portfolio, and the timely execution of our on-going expansion in the region," said Bill Sims, President and CEO, Color Kinetics. "In addition to the resources added this year, we plan to further capitalize on the market's potential in 2006 by increasing our direct sales force, adding new resellers, and extending our partner presence to Shanghai, among other initiatives."
Continuing economic growth in the region is causing a major construction boom in business-centric cities like Shanghai, where the number of office buildings is significantly rising, and travel destinations like Macau, where massive casinos and hotels are in development.
Sims added, "Moreover, with all the new construction planned for the 2008 Olympic Games and World Expo 2010, we view the Chinese market as a tremendous opportunity to showcase the capabilities of Color Kinetics' technology on a global stage." Color Kinetics