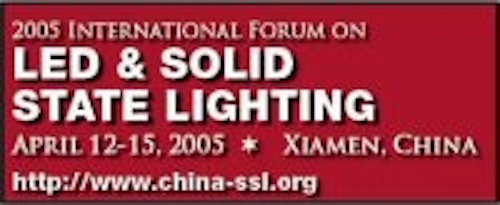 Intertech, and the Governing Committee for China Solid State Lighting / CAO Group Inc., have announced additional activities to be held at the
2005 International Forum on Solid State Lighting
in Xiamen, China on April 12-15 2005 following the successful 2004 China (Shanghai) International Exhibition on Solid State Lighting. The Ninth China Xiamen Machinery & Electronics Exhibition will be held simultaneously.
Revolution of lighting sources, transformation of lighting technologies and the emergence of newly developed lighting industries has become an important priority for the world. The solid-state lighting industry has great potential for growth during the 21st century. Solid-state lighting has remarkable energy-saving and environment-friendly properties and as such is an important approach for energy saving and environmental protection as well as a strategic hi-tech industry.
The 2005 International Forum on Solid State Lighting (IFSSL) will fully display the latest achievements in the solid-state lighting industry, and in university and research at home and abroad. The event will actively promote innovation and application of solid-state lighting technology in China and the world, enhance international exchanges, and strengthen cooperation and exchange between solid-state lighting industrial and academic circles across the Taiwan Straits.
New additions
This year there are several new additions to the event. The First National Competition for Solid-State Lighting Application Innovation and Design contest will be held during IFSSL '05, and the winners announced during a special ceremony on April 16, 2005.
Since there exists tremendous room for cooperation in the solid-state lighting sector on both sides of Taiwan Straits; the first meeting of The Council for Promotion of Cross-Straits Solid-State Lighting Industries will improve the depth and breadth of cross-Straits exchange and cooperation in the solid-state lighting industry.
Exciting changes in China warrant the Symposium on Construction of National Solid-State Lighting Industrialization Bases, which will also be held during IFSSL '05.
Itinerary
Lecturers representing participating countries will speak in the morning of April 13th, followed by lectures from prominent manufacturing companies throughout the day.
On April 14th the invited speakers will present reports on the research, direction, advice, and solutions, which represent the SSL international developing trends and technology.
April 15th will include reports on industrial investments, the Solid State Lighting Design Awards Ceremony, and the Exhibition Hall featuring up to 300 exhibitors in the field.
Contact details
To obtain more information, please contact:
Janel Floyd, CAO Group Conferences, 8683 S. 700 W. Salt Lake City, Utah 84070. USA.
Telephone: +(801) 495-5529, Fax: +(801) 256-9287
Email: Janel.floyd@caogroup.com