Colour walls keep Microsoft execs awake
Clarity Lighting has installed three spectacular light walls in the Executive Briefing Centre at Microsoft UK in Reading.
Mar 7th, 2005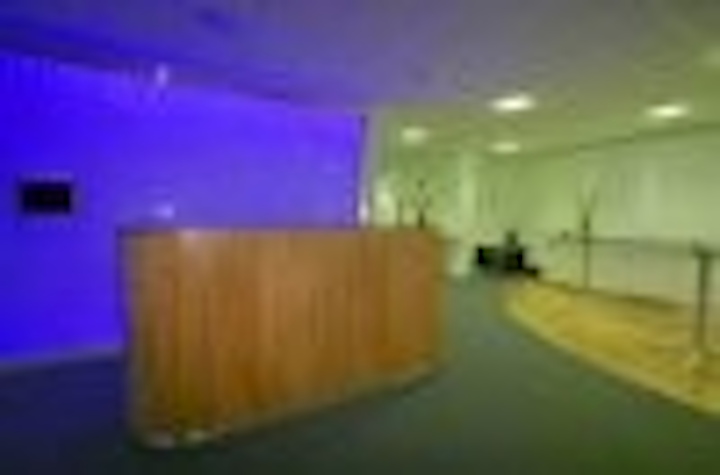 Microsoft - as a leading implementer of new technology - wanted to take advantage of all the positive mood enhancing properties evoked by tasteful coloured lighting in the built environment. They also wanted to maximise the ambience and accentuate the fabulous aesthetics of their new and ultra contemporary briefing facility.
Clarity Lighting's Adrian Britton showed Microsoft a number of samples including Clarity's own Microdex flat panelling, a screen-style solution fed by top and bottom LEDs for a smooth, even coverage.
Microsoft chose to install three Microdex walls measuring 3.2 m wide x 2.7 m high, 4.8 x 2.7 m and 4.1 x 2.7 m, respectively. The first one is behind the reception desk and creates an immediate impact on walk-in. The other two are in different boardrooms inside the Centre - one of which has no natural light, so the role of the light wall is even more crucial in crafting a pleasant and stimulating atmosphere.
The LEDs are 1W Luxeon linear RGB multiLEDs. The light walls are controlled via a wall-mounted scene set device which enables the storage of 8 pre-set scenes and the selection of specific static colours or a timed colour-changing option.
Clarity also worked with audio contractors RM Supplies on devising a remote hand held touch-screen controller for the meeting rooms. This overrides the wall lighting controller, giving the presenter the ability to turn the light walls on and off.
The screen panels making up the walls measure 1400 mm x 2600 mm x 15 mm thick, and each weighs 70 kg, so manoeuvring them into place and attaching them to the wall was a tricky operation. It involved pre-prepping and blocking the walls to take the panels, which were eased into place via space left at top and bottom. The LEDs were then mounted on to L-shaped heat-sink trays.
Clarity also supplied Microsoft with all the environmental lighting in the Executive Briefing Centre, including 3-watt white Luxeon wall-washing fixtures utilised as feature lighting.