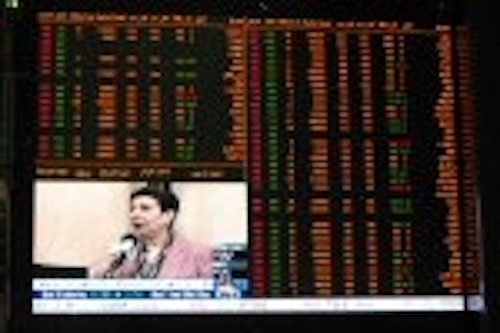 LED display manufacturer Daktronics has been awarded a contract for approximately $7 million to provide the second phase of an integrated display system for the Kuwait Stock Exchange in Kuwait City, Kuwait. The first phase of the system, worth approximately $1.5 million, was substantially complete in December 2004, and phase two will be delivered this summer.
Daktronics says that the Kuwait Stock Exchange will be among the company's largest indoor projects. More than 12.8 million LEDs will be used in 28 displays in phases one and two, totaling more than 2,529 square feet (235 square meters) of programmable active area. All indoor displays will have picture elements (pixels) on 6 mm spacing to provide excellent clarity and visibility indoors. Outdoor displays will incorporate 23 mm pixel spacing.
"It is critical that traders and others who work at and visit the Kuwait Stock Exchange have accurate and timely information available to them from which to make decisions," said Mr. Faleh Abdullah Al-Roqobah, Deputy Director of General Trading at the Kuwait Stock Exchange.
When fully installed, this unique system will be one of the most sophisticated stock exchange display systems in the world, utilizing multiple Daktronics LED technologies and control components to provide financial data, news, live video and other information.
The first phase of the project included large displays for the Cafe and Ladies Area of the exchange, using Daktronics ProStar® full-color video technology and Galaxy® tri-color technology.
In the second phase, ProStar® and ProAd® full-color (red, green, blue) displays, combined with Galaxy® tri-color displays, will be mounted on the seven walls of the main trading floor, surrounding traders with detailed company and market data in real time. One continuous full-color ticker display will be installed on the seven walls of the trading area, measuring approximately eight inches high by 328 feet long (0.2 meters by 100 meters).
ProStar® VideoPlus technology will be located above the ticker display on three of the walls. These displays will be used primarily to show live and recorded video. Galaxy® tri-color (red, green, amber) technology will be located above the ticker display on four of the trading floor walls.
The primary use of these displays will be to present detailed financial data on the companies listed on the Kuwait Stock Exchange. Additional displays will be installed at the main gate and other locations at the exchange as part of phase two.
The integrated displays will be powered by Venus® controllers and V-Link® video processors. The Daktronics control system will interface with the electronic trading system used at the exchange to automatically display real time financial data on multiple displays throughout the facility.