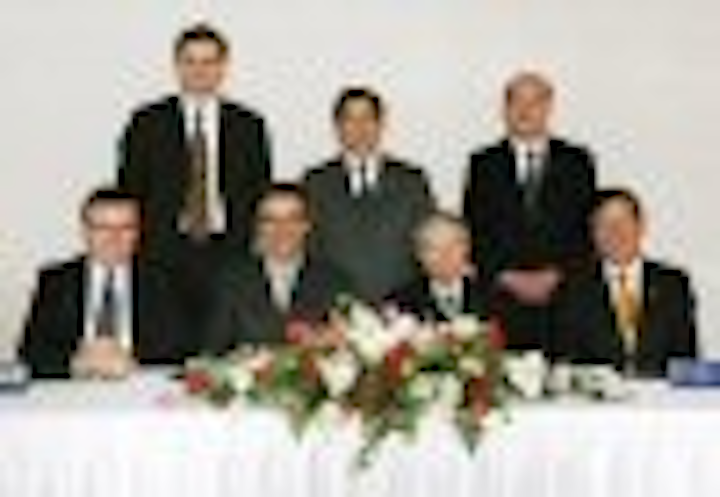 TridonicAtco GmbH & Co. KG, the lighting components and control gear division of the Zumtobel Group, has signed a joint venture agreement with Japanese LED manufacturer Toyoda Gosei with the aim of advancing the development of high-power white LEDs.
The 50:50 joint venture has been established with a fund of 2.6 million Euros ($3.5 million) and the further capital investments will be made in the future. The joint-venture company will be based at Jennersdorf in Austria and will commence business in May 2005, with production expected to start by the end of this calendar year. Sales should reach approximately 50 million Euros in the medium term.
The portfolio of the new joint venture will comprise high-power LED packages and components for the market of general lighting. The white LEDs will be developed with a view to colour temperature, tolerance, homogeneous white light and colour rendering.
The LEDs will be destined for worldwide use in innovative lighting solutions, but the company is also aiming to develop LED applications specifically for the European market, not least for the automotive and communications industries.
Austrian-based Zumtobel Group is a global lighting manufacturer (sales of 1.14 billion Euros in the year ending April 2004) with divisions including Thorn Lighting, Zumtobel Staff and TridonicAtco. As early as 2001, the lighting components division assigned its LED activities to a separate subsidiary, Tridonic Optoelectronics GmbH, based in Jennersdorf.
As the joint venture is set up at the Technology Centre in Jennersdorf in the Austrian state of Burgenland, TridonicAtco's existing facility there will be expanded. The joint venture project qualifies for subsidies from technology promotion schemes financed by the EU and Burgenland.
Toyoda Gosei, a company of the Toyota Group, manufactures parts for the automotive industry and optoelectronic products. In the latter sector, Toyoda Gosei is one of the largest manufacturers of blue LED chips which are used to make white LEDs.
The relationship between the Zumtobel Group and Toyoda Gosei started in November 2001 when Toyoda Gosei applied the phosphors developed by three companies, including Tridonic Optoelectronics, into Toyoda Gosei's high luminosity white LEDs. Subsequently, in July 2004, Toyoda Gosei obtained a share of a patent concerning white LEDs held by these three companies (*) and became a patent partner in order to initiate closer technical collaboration and speed up the development of higher luminosity white LEDs. Tridonic and Toyoda Gosei have since jointly applied for patents on the improved technology.
"We are delighted to have found a competent partner in Toyoda Gosei whose technological expertise and market presence make the perfect complement for our existing LED activities," said Zumtobel Group CEO Andreas Ludwig. "Our common goal now is to grow the joint venture in the medium term into the world's premier supplier of high-performance LEDs for integrated lighting solutions."
"We are pleased to step forward to establish a base for technical development and production of high-power LED lighting for Central Europe," said Toyoda Gosei president Takashi Matsuura. "I have high expectations for the successful future of the new company."
(*) In July 2004 Toyoda Gosei Co., Ltd. acquired a share of patent number WO02054502 (PCT/AT01/00364), which is jointly owned by Tridonic Optoelectronics GmbH (Austria), Leuchtstoffwerk Breitungen GmbH (Germany)and Litec GbR (Germany), as well as other related patent applications. The patent describes a new phosphor used in combination with a blue LED chip to create white light.