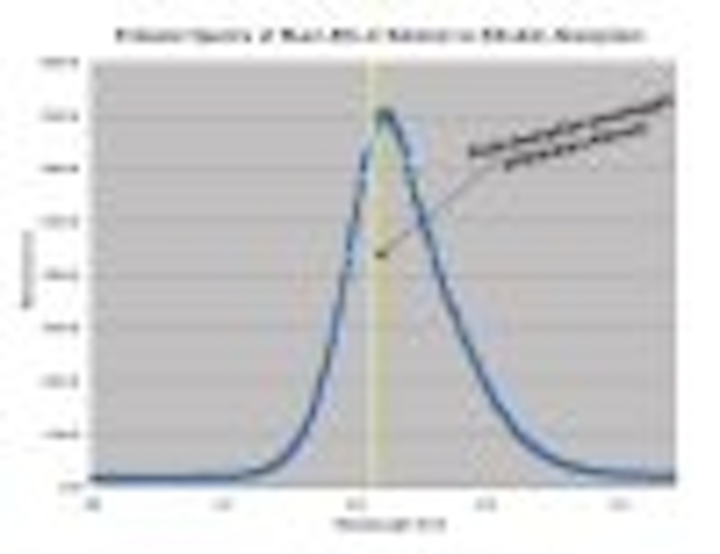 Natus Medical Incorporated has licensed Fisher & Paykel Healthcare to sell a customized model of Natus' neoBLUE mini(TM) LED Phototherapy Light that mounts onto the Fisher & Paykel CosyCot® Infant Warmer.
Radiant warmers are designed to help maintain a stable temperature for newborn babies with special care needs. It is common practice for infants to receive phototherapy treatment while they are under radiant warmers.
The neoBLUE mini contains an array of LEDs emitting blue light, which is clinically proven most effective in the breakdown of bilirubin and treatment of newborn jaundice. Jaundice is the discoloration of skin and sclera of the eye, which occurs when bilirubin accumulates in the blood. Most of the blue LED light is emitted in the 450-470 nm spectrum, which corresponds to the peak absorption wavelength (458 nm) at which bilirubin is broken down (see graph).
The system is fitted with a diffuser panel to allow optimal coverage of light over the baby. On its conventional setting, the product provides 12-15 µW/cm2/nm while intensive phototherapy of 30-35 µW/cm2/nm can also be provided.
The blue LEDs emit no significant ultraviolet radiation, reducing the risk of skin damage, and also don't emit infrared radiation, which reduces the risk of fluid loss.
The 2004 American Academy of Pediatrics (AAP) guidelines for phototherapy validated the efficacy of high-intensity blue light for the treatment of newborn jaundice.
"The neoBLUE mini system allows us the opportunity to provide our blue LED technology in a size, configuration, and price point that hospitals can purchase for each radiant warmer within their facility," said Jim Hawkins, president and CEO of Natus.
Natus introduced the neoBLUE mini LED Phototherapy system in late 2004 as a natural extension of the product line. The ability of the neoBLUE mini system to mount onto an existing patient enclosure, such as the CosyCot warmer, helps healthcare facilities manage their limited floor space and storage constraints.