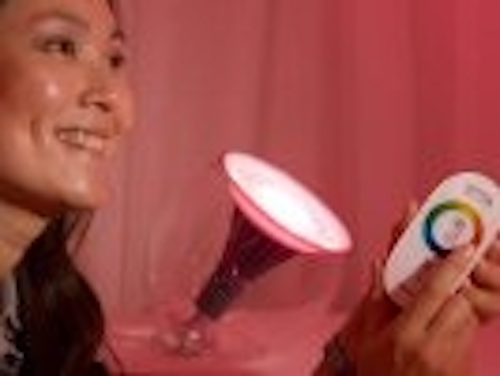 NEWS & ANALYSIS
• Seoul Semiconductor single-chip LED produces 240 lm at 1 A
• ThermaLynk packaging technology from Lynk Labs moves goalposts for LED packaging and assembly
• Belarus library gets LED lighting treatment
• Nichia research yields 400 lm white LED at 2 A, and 138 lm/W for small-size chips
• Philips to acquire home luminaire manufacturer PLI
• Wal–Mart fits refrigerated displays with LED lights from GELcore
• Super Vision capitulates in Color Kinetics patent battle
CONFERENCE REPORT
LEDs 2006 conference searches for near-term LED markets
One of the underlying themes of the LEDs 2006 conference, held on October 16-18 in San Diego, California, was to try to identify the key near-term applications for LEDs that will drive growth in the next few years, writes Tim Whitaker.
SUSTAINABLE LIGHTING
IFC project stimulates LED market for off-grid lighting
A project organized by the International Finance Corporation aims to help LED companies sell lighting systems to homes and businesses that lack electrical power and rely on fuel-based lighting.
LIGHTING
LED downlights from Prescolite make the grade
Hubbell Lighting's Prescolite division has unveiled a specification-grade LED downlight designed with future LED improvements in mind.
ELECTRONICA
Crowds flock to electronica trade show to see LEDs in action
Lighting, displays, mobile phones and automotive were among the applications targeted by LED makers, driver IC suppliers and other exhibitors at electronica.
VEHICLES
Car makers find new ways to create intelligent automotive LED lighting
European regulations, heat exchangers in LED headlight systems, ambient lighting with LED light-guides and adaptive rear lighting were among the subjects discussed at a recent automotive lighting conference, writes Tim Whitaker.
PROMOTIONAL FEATURE
LED Light For You network gathers know-how for general illumination
An internet-based partnering network set up by the lighting manufacturer OSRAM aims to build partnerships and support the penetration of LEDs into the lighting market.
PHOTONICS CLUSTER
Solid-state lighting and LED news from the Photonics Cluster (UK)