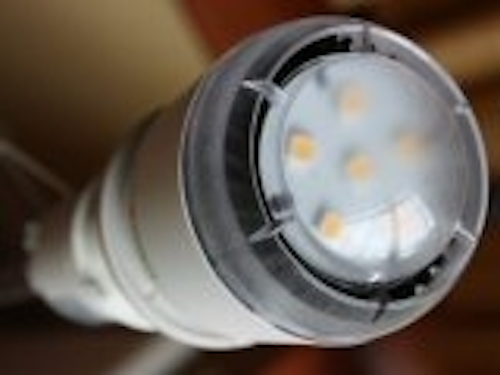 Market conditions are right for the LED replacement lamp market to accelerate in the next few years, according to a new report from Strategies Unlimited. Although the market for LED replacement lamps is still in its early stages of development, lamp revenues are forecast to increase at a compound annual growth rate of 107% through 2013.
The report entitled "LED Replacement Lamps—Market Analysis and Forecast, 2009" analyzes five LED-based lamp types that are designed to replace lamps that currently populate billions of sockets: A-lamps and globes; PAR and R lamps; MR-16s; candelabra and decorative lamps; and linear fluorescent tubes.
Dramatic performance improvements in commercially-available LEDS in recent years, as well as significant cost reduction, have made it feasible to design LED lamps to offer comparable lumen output and to compete with other established lighting technologies on the basis of cost of ownership.
The market is in a state of flux as utilities, energy-efficiency organizations and customers look for optimum solutions which save energy, minimize the cost of ownership, and give acceptable quality of light. Customers are in the process of being educated about comparing cost of ownership, rather than looking just at the initial price of lamps.
+++++++
This article was published in the July/August 2009 issue of LEDs Magazine.
To read the full version of this article, please visit our Magazine page, where you can download FREE electronic PDF versions of all issues of LEDs Magazine.
You can also request a print copy of LEDs Magazine (available by paid subscription) and sign up for our free weekly email newsletter.