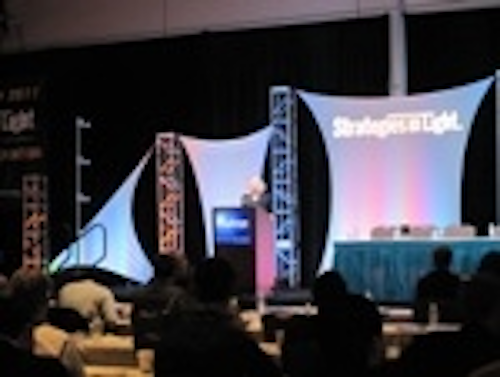 The 2011 Strategies in Light (SIL) conference showed signs of a maturing solid-state lighting (SSL) technology sector. Indeed, in one keynote presentation, Osram Opto Semiconductors president and CEO Aldo Kamper said, "We can now address all [lighting] applications with LEDs." Without question, LED component manufacturers have made significant gains in areas such as brightness and color quality, although there remains significant opportunity for further advances. Moreover, while SSL is steadily penetrating general illumination applications, other opportunities in areas such as life sciences and horticulture lie largely untapped. Still, LEDs aren't the only evolving lighting technology with promise, as OLEDs or other energy-efficient alternatives could steal some significant market share by mid decade.
Whether in the sessions or on the show floor, SIL had an upbeat feel attributable to what's a rapidly expanding LED and SSL market (see page 15 for the Strategies Unlimited HB-LED market forecast that was the first presentation in the SIL conference). The industry has made strides at the component level and perhaps more so in the system design area. The results of the Next Generation Luminaires (NGL) competition announced at SIL are evident of advances in luminaire design (see page 26). Moreover, the exhibit floor was full of examples of improvements in SSL technology in areas such as phosphors, driver electronics, and modular luminaire components (see www.ledsmagazine.com/news/8/3/3).
++++++ This article was published in the March 2011 issue of LEDs Magazine. To read the full version of this article, please visit our magazine page, where you can download FREE electronic PDF versions of all issues of LEDs Magazine. You can also request a print copy of LEDs Magazine (available by paid subscription) and sign up for our free weekly email newsletter.