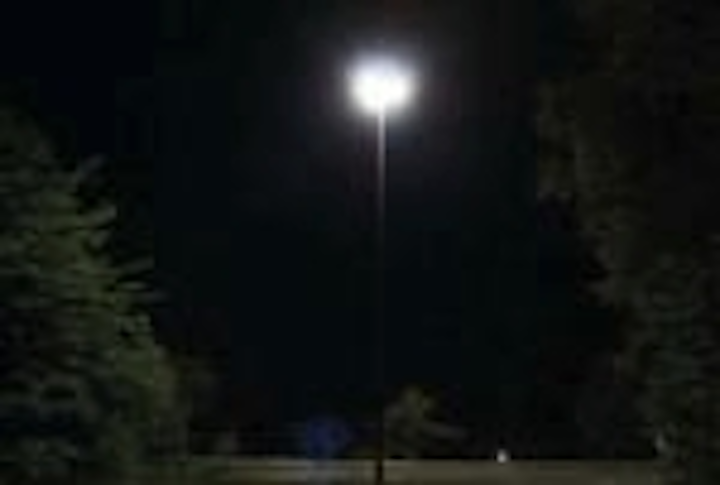 +++ Cover +++
The Recouvrance Bridge in Brest, France has been renovated and LED fixtures from LEC Lyon provide color architectural lighting on the lift towers (see page 19). Photo courtesy of Jean-Yves Guillaume.
+++ Features +++
OUTDOOR LIGHTING
LED modules bring energy savings to high-mast outdoor lighting
While LEDs have pervaded a variety of street- and roadway-lighting applications, most owners of high-mast lights have stayed with HID lamps. Maury Wright reports that a Maine case study indicates significant potential for SSL in the higher-power lights used in places such as freeway interchanges.
ARCHITECTURAL LIGHTING
LEDs light walkway and highlight structure of the Recouvrance Bridge
Residents of Brest, France now enjoy both functional LED ambient lighting and dynamic SSL architectural lighting on the historic and newly-renovated Recouvrance lift bridge.
LIGHTING
GE LED lighting improves safety while reducing energy cost at Marriott headquarters
An LED lighting retrofit at Marriott's headquarters has delivered notable savings in energy use, but it is the improvement in employee safety that one cannot put a price on, explains LAURA PETERS.
CONFERENCES LED lighting quality shines at Light+Building
More than 196,000 visitors attended the event, and in this article we look at a small selection of the products on show.
LAMPS
Are MR16 LED lamps ready for the 50W-halogen switch?
The MR16 LED lamps face certain transformer and dimmer compatibility issues. Still, major lamp manufacturers have introduced 50W halogen equivalents in 8-10W LED lamps and feel the lighting market is ready to make the switch, reports LAURA PETERS.
LIGHTING
Software-based control will personalize lighting and deliver broad benefits
Programmable systems and software will revolutionize lighting just as it has other technology sectors says Barry Hagglund. The result will be improvements in productivity and our wellbeing.
COMPONENTS
LED makers broaden product lines to match application requirements
While LED makers have consistently delivered efficacy breakthroughs, the industry leaders are now launching broader product portfolios with varying packages trying to match component characteristics to specific applications, reports MAURY WRIGHT.

DESIGN FORUM
Understand triac dimmer issues for compatibility
The lighting industry must overcome differences in lamp load, lack of standards, and legacy wiring problems to optimally pair a phase-cut dimmer with an LED lamp write Marc Gallo and Michael Neary.

LAST WORD
LED technology is rapidly evolving and the lighting industry must keep pace
JAMES HIGHGATE says that LED technology offers great potential for many lighting segments but advises the lighting industry that it must adapt to the velocity of the semiconductor technology cycle.

+++ Columns/departments +++

COMMENTARY
Would that be architectural lighting or architectural lighting?
NEWS + VIEWS
Testers accelerate LED and luminaire development projects
Cree announces downlights and linear fixture
Everlight hits Nichia with LED patent lawsuit in US
Zigbee targets consumers with Light Link standard
Energy Star Luminaires spec is in effect
FUNDING+PROGRAMS
Winners of Next Generation Luminaires competition announced at Lightfair
DOE improves Lighting Facts label