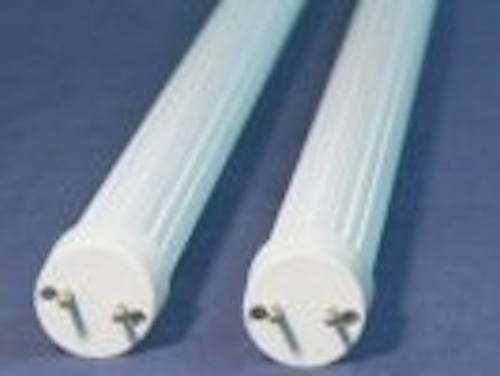 The EverLED TR from LEDdynamics (Randolph, Vermont) is billed as the first commercially available, direct "drop in" replacement for standard fluorescent lamps. The fitting is able to work directly with "almost all" of the wide range of fluorescent ballasts in use today, says Mason Alling, the company's sales and marketing manager, so there is no need to change the fitting or alter the wiring. "Most retrofit/replacement solutions require wiring around the ballast, which needs a qualified electrician," he says. "There is also the need to take down the power, with the resulting loss of productivity."
The secret lies in LEDdynamics' patent-pending driver technology. This is capable of drawing power from different ballasts and then supplying constant current to the LEDs. An automatic sensing system detects the type of ballast and supplies a constant current level that enables the LEDs to provide the same amount of light that would be produced by a fluorescent tube in the same housing.
+++++++
This article was published in the August 2007 issue of LEDs Magazine.
To read the full version of this article, please visit our Magazine page, where you can download FREE electronic PDF versions of all issues of LEDs Magazine.
You can also request a print copy of LEDs Magazine (available by paid subscription) and sign up for our free weekly email newsletter.