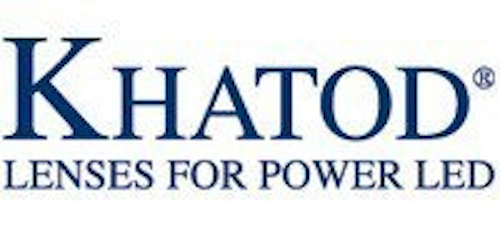 Khatod Optoelectronic's history starts in 1982 with the production of LED PCB holders. Today, our product range is presented over 11 catalogues and covers more than 35,000 items.
Khatod is located in Italy, with a facility of more than 3700 sq m. All of the production and business strategies are carried out in our headquarters in Cinisello Balsamo, Milano.
For more than 20 years Khatod Optoelectronic's designers and engineers, working with major European design centres, have been successful in specifying and developing their lenses. By using software for optical simulation and software for thermoplastic injection moulding experimentation, our designers monitor all the design and development phases, and create and maintain high quality standards. Moreover, advanced test equipments, tests carried out in darkrooms, spectro-metric analysis and in-house custom moulds manufacturing allow our designers to develop highly technical products.
The continuous improvement in performance and the ever-increasing number of power LEDs manufacturers has produced a great change in LEDs market. Custom products will be created by Khatod depending on the specific customer's requirements and on the huge market of power LED diversification and application.
Only a year ago, the customer had used mostly one or two types of LEDs. At present the LED and lens specifications for final applications have created new avenues for Khatod to meet and exceed the market for these custom applications.
Khatod's focus on secondary optics for the major LEDs manufacturers has required great technical and productive efforts to meet the needs of the market. The creation of NJC TechnologyTM is one of the most important steps Khatod has taken to meet the needs of the industry. Beginning with substantial research, our designers and engineers have developed technically unique products, while creating the necessary tooling and equipment to manufacture them.
The setting-up of complete lenses series (single, triple MR16, triple MR11,Quad MR16, all in NJC Technology™) for most of the major LEDs manufacturers has prompted us to invest in research, and greater production capabilities. Our care in developing such a program, as well as customizing lenses, allows the customer to feel free to choose the product that will best meet the requirements of their product specification.
In this way Khatod can offer their worldwide customers a real optical engineering support that allows them to understand and choose the right component to be developed and produced. Also the drawings and projects of moulds and tooling are tested by specific mould flow simulation software before they are manufactured.
Our computer-integrated tooling, moulding and automated production equipments including 13 injection moulding machines, together with our skills and capabilities, allow us to produce more than 160,000 pieces a day, thanks to different assembly methods such as a surface mount pick-and-place production line.
Our testing and quality control are continuous and every product must overcome our careful and rigorous quality tests. We always try to meet customer requirements to ensure the product quality, performance and reliability.
Our approach is based on the principle of prevention in order to guarantee a constant improvement process. Quality is everyone's responsibility with focus on total customer satisfaction.
Khatod's quality and reliability cover all the aspects of production and engineering departments: our laboratory conducts analyses and tests on all the new designs that check all the possible failures which may occur. Thus we preserve our high quality standard.
Another important aspect of our policy is the customer service: no project can be considered over without providing proper support. We employ qualified and expert staff to manage, inform and suggest solutions to fulfill every request coming from the customer.
Communication is one of our foundations as well: we have a specialist team who are constantly updating the Khatod website. This allows our customers and anybody interested in our products to get all the information they need. The team periodically informs subscribers about new products, activities and events via Khatod's newsletters.You can also meet us at the most important international exhibitions and stay informed about all the news we are proposing by visiting our website.
Khatod is the best choice for high quality standards, professionalism, expertise and ability to manage the specific logistics that optoelectronic components require for each customer and each application.
We invite you to enter our B2B portal, Opto Market, created to offer the best service to anybody who needs our products to develop their own project prototypes.
Contact details:
Khatod Optoelectronic
Via Monfalcone 41, Cinisello Balsamo, 20092, Italy
Tel: +39 02 66013 695
Fax: +39 02 66013 500
Email: khatod@khatod.com
Website: www.khatod.com