LEDs create definitive lighting statement in the Lincoln MKR concept car
A star of this year's Detroit Auto Show, the 2007 Lincoln MKR concept features some very advanced lighting concepts enabled by LED technology, writes Robert Miller.
Feb 26th, 2007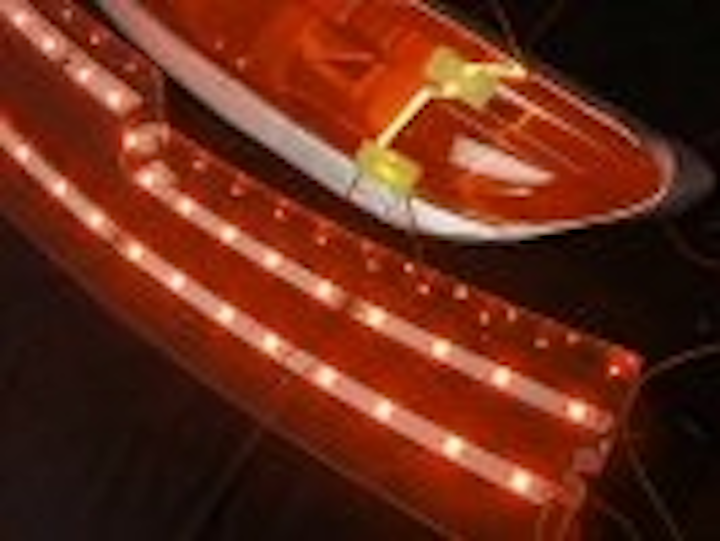 In designing the 2007 Lincoln MKR concept, unveiled at the NAIAS show in Detroit in January, Ford required an entirely new look and feel. For the first time LED lighting was at the very forefront of the overall design. The target was a rebirth of the Lincoln brand, with aggressive looks and advanced lighting technology. We had many hours of discussions on what the illumination visual statement would become, and it was decided to take some of the lighting design cues accomplished with the Super Chief (see
LEDs Magazine, October 2006, p23
) and blend them into the MKR.
It took over 100 hours to create a technology platform that could be used throughout the vehicle. The 2-watt Osram Golden Dragon was chosen as the main LED platform, with features of high reliability, low profile with no lens, and wide latitude of color binning choices. In order to put the Lincoln MKR concept lighting in a class by itself, the rear tail-light was chosen as an exciting and unique lighting focus.
The selected design required placing the LEDs in areas with less than 10 mm of clearance space, as well as making tight bends, twists and turns. To make matters more difficult, the circuit had to be mounted directly on the clear lens that covers each of the light chambers making up the rear tail-light. Temperature could not exceed 125 deg.F, otherwise the lens could start to deform, so managing the thermal needs of each LED was critical. 3M's Light by Wire (LBW) was the enabling component strategy that made the attainment of these design goals possible, while providing the Lincoln MKR concept with a spectacular and innovative lighting effect.
+++++++
This article was published in the February 2007 issue of LEDs Magazine.
To read the rest of this article, please visit our Magazine page, where you can download FREE electronic PDF versions of all issues of LEDs Magazine.
You can also request a print copy of LEDs Magazine (available by paid subscription).