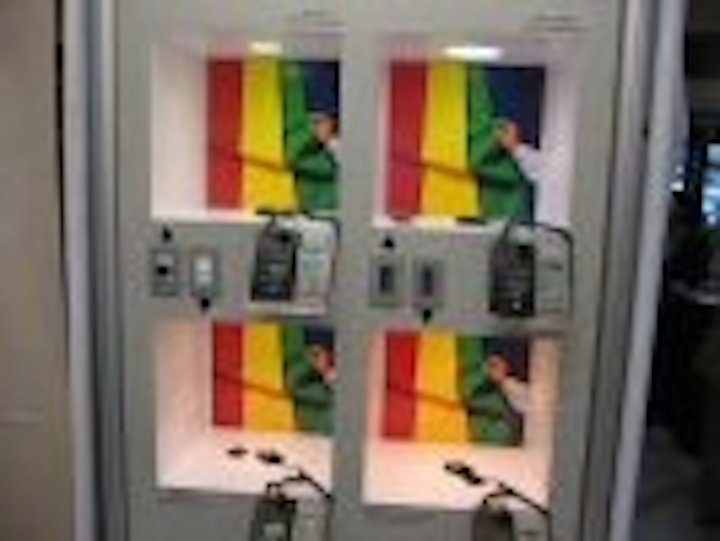 Lightfair International, the tradeshow which took place on May 8-10 in Manhattan, is arguably North America's premier showcase for new lighting technology. Alternating each year with Las Vegas, the New York venue draws the local lighting design community and makes for an impressive and high-profile show.
At the event, outdoor area lighting using cool-white LEDs and downlights using warm-white LEDs were widespread, along with LED lamps designed as direct replacements for standard form-factor incandescent and fluorescent lamps. Joining some of the big names familiar to LED industry observers were lighting manufacturers such as Lightolier and Beta-Kramer, who both unveiled impressive LED fixtures.
Our Lightfair report contains information on:
• Award winners
• Lightolier
• Cooper Lighting
• Illumination Management Solutions (IMS)
• LED Lighting Fixtures
• Beta LED
• Philps
• Osram Sylvania
• General Electric and Lumination
• GE unveils Vio (again)
• Replacement lamps (Optiled, Bartco, LEDdynamics)
• Color Kinetics
• Fusion Optix
• In brief: Edison, Power Vector, Carclo, Enfis, Fraen., CAO Group
• Gaia power LEDs from Nichia
+++++++
This article was published in the June 2007 issue of LEDs Magazine.
To read the full version of this article, please visit our Magazine page, where you can download FREE electronic PDF versions of all issues of LEDs Magazine.
You can also request a print copy of LEDs Magazine (available by paid subscription) and sign up for our free weekly email newsletter.