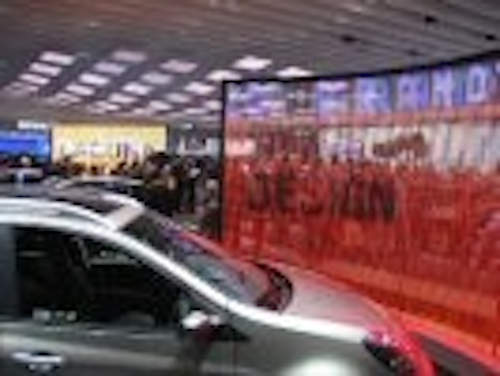 The creative use of LED technology at car shows is becoming a trademark around the world, and September's IAA event, aka the Frankfurt Motor Show, was no exception.
With nearly one million visitors at the show, car makers made creative use of LED technology to differentiate their booths. High resolution LED screens were mixed with lower-resolution displays and partially transparent fixtures.
Several companies used sophisticated moving displays that separated into individual sections. BMW had an arrangement of ten vertical panels that moved up and down in a piston-like motion, or came together to form a single large screen.
+++++++
This article was published in the November/December 2007 issue of LEDs Magazine.
To read the full version of this article, please visit our Magazine page, where you can download FREE electronic PDF versions of all issues of LEDs Magazine.
You can also request a print copy of LEDs Magazine (available by paid subscription) and sign up for our free weekly email newsletter.